Virtual Library of Newspaper Articles

Calgary Herald, Charles W. Moore July 29, 1999
Feminist "analysis" dismissive of fathers
Charles W. Moore goes after quack psychologists busy "deconstructing" fatherhood
I am beginning to wonder if being a card-carrying lunatic facilitates getting published in journals of the American Psychological Association (APA)
A report, recently published in the APA's Psychological Bulletin, by Bruce Rind, Philip Tromovitch and Robert Bauserman, asserted that the "negative potential" of child sexual abuse has "been overstated." The authors rationalized that while "child sexual abuse is harmful," supposedly consensual "child -adult sex" is not necessarily harmful and may, in some cases, even be "beneficial."
Facing a firestorm of protest, the APA backed off, grudgingly releasing aresolution condemning all "sexual relations between children and adults."
Now the APA nuts are at it again. An article in the June 1999 issue of an APA journal, The American Psychologist, argues that the presence of fathers in families raising children is " not essential," and that fathers "may be detrimental to the child and mother." In deconstructing the Essential Father, Louise B. Silverstein and Carl F. Auerbach proceed to "deconstruct" traditional ideas about fatherhood and marriage that they disparage as "neo-conservative."
They dismiss the assumption that single mothers have a difficult time raising boys as based in "the large culture context of male dominance and negative attitudes toward womenWithin patriarchal culture, boys know that when they become adult men, they will be dominant to every women, including their mother." It is obvious this attack on fatherhood and the family is pure postmodern feminist quackery. Indeed, Silverstein, (alarmingly) past president of the APA's division of family psychology, is chair of the APA's Feminist Family Therapy Task Force. What this article isn't is science, because its conclusion fly in the face of all credible research on the topic.
According to data complied by the National Centre for Public Policy Research:
Boys with father and mother at home are half as likely to be incarcerated, regardless of their parents' income or educational level.
According to a Men Against Domestic Violence survey, 85 per cent of youths in prison come from fatherless homes.
Teenage girls raised in homes with fathers are significantly less likely to engage in premarital sex, and 76 per cent of teenage girls surveyed said their fathers are very or some what influential over their decisions regarding sex.
Girls raised in single-mother homes are more likely to give birth while single and are more likely to divorce and remarry. Girls whose fathers depart before their fifth birthday are especially likely to have permissive sexual attitudes and to seek approval from others.
Paternal praise is associated with better behavior and achievement in school, while father absence increases vulnerability and aggressiveness in young children, particularly boys. Kids of both sexes whose fathers actively participate in their early development tend to have higher IQs, get higher marks in school and possess a better sense of humour.
Fatherless children are "at a dramatically greater risk" of drug and alcohol abuse, according to the U.S. Department of Health and Human Services.
When fathers don't live with their kids, the children are 4.3 times more likely to smoke cigarettes during their teenage years.
A white teenage girl with an advantage background is five times more likely to become a teen mother if she grows up in a household headed by a single mother instead of with her biological father and mother.
According to data cited by Walter Schn[ei]der of Equal Parents of Canada, children from single-mothers households (compared to children of two parent households) are:
Eight times more likely to go to prison.
Five times more likely to commit suicide.
20 times more likely to have behavioral problems.
20 times more likely to become rapists.
32 times more likely to become runaways.
10 times more likely to abuse chemical substances.
Nine times more likely to drop out of high school.
One-tenth as likely to get A's in school.
Statistical evidence overwhelmingly indicates that "analyses" like those of Silverstein and Auerbach are mere political advocacy with no basis in fact.
Copyright © 1999 Calgary Herald New Media

By Kathleen Parker, The Orlando Sentinel, USA, on July 18, 1999
Now is the time for all good fathers to come to the aid of the family.
But you'd better hurry; your days are numbered. In fact, if you happen to be a heterosexual male (further doomed by Caucasian pigmentation), your days are already over, according to a cover article in the June issue of American Psychologist, published by the American Psychological Association.
In their article, "Deconstructing the Essential Father," researchers Louise B. Silverstein and Carl F. Auerbach challenge one of the core institutions of our culture -- fatherhood. Read More .. less, fathers, as we've known and loved them, are obsolete.
The article makes numerous breathtaking assertions, but basically the researchers state that fathers aren't essential to the well-being of children Read More ...
Quakers United Nations Office
July 2009
Children are heavily impacted by parental imprisonment and greater attention should be given to their rights, needs and welfare in criminal justice policy and practice. Due to a variety of reasons such as mothers often being the primary or sole carer of children, complicated care arrangements, the likelihood of women prisoners being greater distances from home and a host of factors explored in detail in other QUNO publications, maternal imprisonment can be more damaging for children than paternal imprisonment. However, it is important not to underestimate the damage that paternal imprisonment can have on children.
Children with incarcerated fathers experience many of the same problems as those with incarcerated mothers, including coping with loss, environmental disruption, poverty, stigmatisation, health problems and all of the difficulties involved in visiting a parent in prison. It appears that there are also some difficulties specifically associated with paternal imprisonment, such as a higher risk of juvenile delinquency and strained relationships between the mother and child.
The numbers of children separated from their fathers due to imprisonment is far higher than those separated from their mothers due to the vast majority of prisoners being men (globally over 90 per cent of prisoners are male. To ignore this group would, therefore, be to neglect the vast majority of children affected by parental imprisonment. Read More ..

USA TODAY, June 10, 2003
It's widely recognized that boys benefit from having dads around as role models and teachers about manhood.
But does having a father at home make much difference for girls?
But even in affluent families, girls become sexually active and pregnant earlier if they don't live with fathers, according to the largest and longest-term study on the problem. It was released in May.
Compared with daughters from two-parent homes, a girl is about five times more likely to have had sex by age 16 if her dad left before she was 6 and twice as likely if she stops living with her dad at 6 or older.
The study of 762 girls for 13 years took into account many factors that could lead to early sex, says Duke University psychologist Kenneth Dodge, the study's co-author. Still, there was an independent link between teenage sex and girls not living with their biological fathers.
Dr. Sandford L. Braver and Diane O'Connell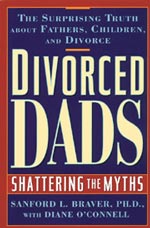 This is the result of the largest federally funded 8 year study of the issues confronting parents and their children in the United States.
Shattering the Myths. The surprising truth about fathers, children and divorce.

The Sydney Morning Herald
February 3, 2005
Divorced fathers are Read More ..volved in their children's lives than conventional wisdom would have it, a new study shows.
It shows surprisingly varied and flexible care patterns among separated families, with "every other Saturday" contact giving way to Read More ..ild-focused arrangements.
Australian Institute of Family Studies research fellow Bruce Smyth has produced the first detailed snapshot of parent-child contact after divorce anywhere in the world. Published today in the institute's journal Family Matters, the analysis has implications for children's emotional and financial wellbeing.
Other research indicates children of separated families do best when they have multifaceted relationships, including sleepovers, sharing meals and doing schoolwork, with both parents.
Fatherlessness

The Telegraph, London, U.K.
Researchers say they found a direct relationship between children's behavioural problems and the amount of contact they had with their natural father.
The effect was more pronounced in single-parent families, particularly where the mother was a teenager. In such cases, children were especially vulnerable emotionally if they had no contact with their father.
The Mythologies behind Custody-Access-Support

>
When 50 percent of marriages end in divorce and 43 percent of children are left with one parent, everyone is affected: uncles, aunts, grandparents, and friends, but mostly, the children. The devastation from our divorce practices is our most public secret scandal. Everyone whispers it, the whispers never acknowledged. It seems that as long as a villain can be created, society is content.
After three decades of research universally pointing to more productive options, why does Custody-Access-Support remain?

Research proves that fatherhood really matters