Virtual Library of Newspaper Articles

'How I found my 13-year-old daughter having sex with her lesbian tennis coach'
Liverpool, UK, By JAMES TOZER - 3rd October 2007
The mother of a young tennis star yesterday described the moment she allegedly found the 13-year-old and her female coach naked in bed together.
The woman said she screamed "You are nothing but a paedophile!" at 29-year-old Claire Lyte after stumbling across the pair performing sex acts on each other.

Accused: Claire Lyte on her way into court today.
However, she told a court she did not report the incident to police because Lyte's father begged her not to ruin her coaching career and insisted it would not happen again.
It was not until nearly a year later that she became convinced the illicit lesbian relationship had continued and informed the authorities, she said.
When she found out that police were involved, her daughter climbed onto the roof of their house and threatened to commit suicide, she added, although she was later talked down.
The girl, who cannot be identified legal reasons, initially told police the bedroom incident had been a one-off, but she now claims this was a lie and that Lyte had threatened to destroy her tennis career if she exposed the alleged abuse.
Her mother was giving evidence at Liverpool Crown Court where Lyte - who until injury ended her career was one of Britain's top women players - is accused of sexual activity with a child.
The coach denies the charges, saying the 'pushy and ambitious' mother concocted the allegations after her daughter's tennis career stalled.
The girl's mother dabbed at tears as she described the incident in October 2005 when she came home unexpectedly and allegedly found them in bed together.
"My daughter jumped up and ran off and Claire pulled the bed sheet over her head," she said.
"Claire stayed in the bed under the sheet, and I shouted at both of them to get some clothes on and come downstairs.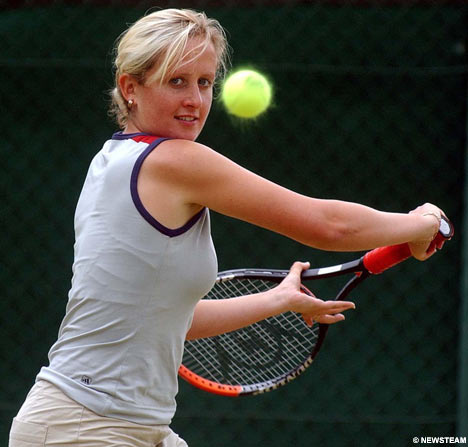 Claire Lyte: Top female coach
"I was screaming at Claire, "Get out, what have you done, what have you done to my child, you are nothing but a paedophile".
"They came downstairs dressed, and my daughter sat down in a chair and curled into a ball. Claire sat with her head in her hands.
"Claire just kept telling me she loved my daughter. I kept saying, "She is 13". My daughter just cried and cried."
She said after talking for hours, Lyte agreed to cease coaching her daughter and distance herself from her.
The next day the mother took her daughter back to the prestigious Lawn Tennis Association academy in Loughborough which she attended.
Later that day, however, she said Lyte's father Colin rang 'begging' to meet her.
She eventually relented, driving to a motorway cafe that evening to discuss what had happened.
She told the court: "Colin pleaded with me not to do anything, to let him sort it out.
"He said he couldn't let her career end like this. He said he would really sort Claire out and this would never happen again."
But two weeks later, when the mother demanded to look at a text message on her daughter's phone, the girl locked herself in the toilet and threatened to ring ChildLine because her mother was 'abusing' her.
"I was so upset and furious and felt it was all connected with Claire," she said.
Lyte had meanwhile been warned by bosses at the academy for becoming too close to girl players and had been found sharing a toilet cubicle with the 13-year-old, the court heard.
Her mother said she reluctantly accepted Mr Lyte's assurances but in August last year she saw them getting out of a minibus together and realised Lyte was wearing her daughter's clothes, she said.
"I knew then I had to go to the police," she said.
When police raided Lyte's home they found clothing allegedly belonging to the girl.
These included a pair of pink knickers with her name tag sewn into them which were shown to the jury.
Lyte, from Shirley, near Solihull, West Midlands, denies five counts of sexual activity with a child between May 2005 and June last year.
The case continues.