Virtual Library of Newspaper Articles
Doctors Re-examine Circumcision
by Thomas Ritter, M.D. and George Denniston, M.D., University of Washington, December 2004
ABOUT THE AUTHORS
Thomas J. Ritter, M.D., has practiced general surgery for over three decades, and is a graduate of the University of Pennsylvania School of Medicine. Dr. Ritter is a Fellow of the American College of Surgeons and is a Diplomate of the American Board of Surgery. The father of six children, he lives with his wife in Pennsylvania.
George C. Denniston, M.D., M.P.H., is a graduate of the University of Pennsylvania School of Medicine, and the Harvard School of Public Health, and is associated with the Department of Family Medicine, University of Washington. He lives with his wife in Seattle.
CONTENTS
Circumcision Inflicts a Diminished Penis on Your Newborn Baby Boy
Circumcision Is Really Foreskin Amputation, and Is Abusive
Circumcision Is Very Painful and Traumatizing--A Terrible Way to Welcome Your Newborn
Circumcision Produces Psychological and Emotional Pain and Anguish to Sons and Parents
Circumcision Creates Unnecessary Surgical Risks and Complications
Cleanliness and Hygienic Reasons Mandate That We Do Not Circumcise
No Extra Care Is Needed for an Intact Infant or Young Boy
Your Son Will Learn How Simple It Is to Keep Himself Clean
The Foreskin Is Normal and Natural
What Looks "Funny" to Some Is Natural and Normal
When Unaroused, the Glans of the Penis Is Meant to Be an Internal Organ, Like the Clitoris
The Foreskin Enhances Sexual Pleasure!
Circumcision Robs the Male of His Birthright--A Fully Functioning Penis
It Makes Just As Much Sense to Circumcise Baby Girls
Circumcision is a Disservice to Both the Male and Female--Especially in Later Life
Europeans and Asians Do Not Circumcise Their Sons
The "I'm Circumcised and I'm Fine" Syndrome
Circumcision Removes a Lot more than a Little Snip of Skin
Your Son's Penis Does Not Have to Look Like His Father's
Men Circumcised as Infants Are Even Now Restoring Their Foreskins
Males with Foreskins Will Have a Lot of Company in the Locker Room
Males Masturbate Whether They Have Foreskins or Not
The History of Circumcision is Filled with Hysteria, Bias, Misinformation, etc.
Christianity Does Not Require or Promote Circumcision
Some Jewish People Are Even Changing Their Minds on Circumcision
Don't Be Fooled, Most Books, Including Medical Textbooks, Contain Inaccurate Information
Don't Accept, at Face Value, What Your Doctor Has to Say About Circumcision
Most Physicians Are Circumcised Males or Female Doctors Whose Husbands or Sons Are Circumcised
Make No Mistake, There Is Money in Circumcision
Circumcision Does Not Prevent Premature Ejaculation
Penile and Cervical Cancer Are Not Valid Reasons for Infant Circumcision
The Uncircumcised Penis Is Not Read More ..one to Urinary Tract Infections
The Uncircumcised Penis is Not more likely to Spread STD's, Including AIDS
No, He Probably Won't Have to Have It Done Later Anyway
Intact Men Are more likely to Use a Condom
Major Medical Associations Say Circumcision Is Unnecessary
Some Insurance Companies and Programs Are No Longer Paying for Routine Infant Circumcision
Many Noted Physicians and Others Have Spoken Out Against Circumcision
If You're Not Sure--Don't Do It!
Say No to Circumcision!
Glossary
Physician's Guide to the Normal (Intact) Penis
Notes and Selected Medical References
Infant Circumcision Surgery in Photos

Pediatricians turn away from circumcision
The United States is the only country that routinely circumcises baby boys for non-religious reasons
CNN, U.S.A.
March 1, 1999
ATLANTA (CNN) -- American pediatricians are turning away from the practice of routine circumcision, concluding that doctors have no good medical reason to perform the procedure.
The United States is the only country in the world that routinely removes the foreskins of infant boys. Critics of circumcision got additional ammunition Monday from the American Academy of Pediatrics, a leading medical organization.
The academy concluded the benefits "are not compelling enough" for circumcision to be routinely administered.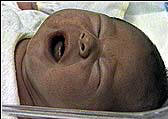 A newborn winces in pain after a circumcision
Monday's statement, published in the March edition of the journal Pediatrics, was the academy's first in 10 years on the practice. But in recent years, medical societies in Canada, Britain and Australia have come out in opposition to routine circumcision.
Critics have long contended that removing the foreskin from the penis is traumatic, medically unnecessary and may reduce sexual pleasure later in life. As one critic, Dr. George Denniston, put it: "Who are we to question mother nature?"
Canadian researchers, whose study was published in this week's Journal of the American Medical Association, studied the heart rates and crying patterns of babies during different stages of circumcision.
In fact, in the study they found the babies suffered so much trauma that they stopped the study part way through.
The results were so compelling that they took the unusual step of stopping the study before it was scheduled to end rather than subjecting any Read More ..bies to circumcision.
One baby stopped breathing for 25 seconds from the trauma of having part of his foreskin severed. Read More ..
Urinary Tract Infections (UTIs) are rare, and mainly occur in the first year of life. They are several times Read More .. common in girls than boys (but of course surgery is never considered for girls).
They are painful, and women's experience of them is a powerful inducement to have sons circumcised, if they imagine that this will protect them. In fact, a significant proportion of boys contract UTIs even though they are circumcised. A study in Israel found they mainly occurred in girls at four months, but in boys soon after they were circumcised.... Now an Australian study suggests circumcision may cause urinary problems. Read More ..