Virtual Library of Newspaper Articles

Two moms, two school bullies and two different ways to deal
The Globe and Mail, Canada's largest national newspaper, By Dave Ginn, August 25, 2009
One mom taking the issue to the courthouse, while another is taking her kid to kickboxing lessons
One Manitoba mother of a bullied child is taking the issue to the courthouse, while another is taking her kid to kickboxing lessons.
Deborah Leblanc is suing the St. James Assiniboia School division for the mishandling of the bullying of her son Bryan.
Earlier this month, Deborah LeBlanc filed a lawsuit against the St. James-Assiniboia School Division in Winnipeg, claiming her son's junior high school did not protect him from a bully.
The suit alleges that in May 2008, another student attacked Ms. LeBlanc's 13-year-old son Bryan in school, grabbing him by the throat and knocking him unconscious as his head hit the floor, which left the boy with neck injuries and possible brain trauma.
"People shouldn't have to turn to violence to prevent violence," Ms. LeBlanc says.
But another mother in the city thinks otherwise. The mom, who has asked to remain anonymous, has enrolled her teenage son in kickboxing classes and has given the boy permission to "kick the snot out of" his bully, according to the Winnipeg Free Press.
"The kids that are being bullied should have some kind of retribution," she recently told the newspaper.
Both situations are examples of just how difficult bullying can be for parents to deal with, experts say.
"It can be very frustrating," says Debra Pepler, co-director of PREVNet, a national network that addresses the problems of childhood bullying.
"As a parent, you're most interested and concerned about your child's safety. And so it's frustrating and very emotionally demanding and taxing when a child isn't safe."
Dealing with bullying can be challenging because often children are reluctant to raise the issue with parents, and teachers may not acknowledge the problem, she adds.
But there is a series of steps parents can take to address the issue, Ms. Pepler says.
"First talk to your child about it. If children come forward with any facet of bullying then I think the parent needs to explore with the child what he or she has done to stop the bullying and whether that's been successful."
From there, Ms. Pepler says, parents should discuss the bullying with the child's teacher or principal, who may sometimes be reluctant to acknowledge the full extent of the problem.
If necessary, she says, contact the school board.
"There's a ladder, basically, that you climb," says Robert Frenette, co-founder of BullyingCanada.ca, an anti-bullying website.
It starts with talking to teachers and principals.
"From there, if it gets into criminal harassment as well, which technically bullying is, they can get police involved," Mr. Frenette says.
Parents should absolutely not tell their kids to respond with violence, Ms. Pepler says.
News of the mother who has advised her son to dole out retribution on the playground has shocked anti-bullying advocates.
"I'm a little taken aback by it," Mr. Frenette says.
"It's definitely an initiative that has gotten out of hand. There's other methods that they can go about curbing it, and violence isn't one of them."
While standing up to bullies may have been a traditional way of dealing with the problem, it will only make things worse, Ms. Pepler says.
"If the child responds aggressively, the bullying lasts longer," she says. "Clearly, this is not a good strategy."
"I've always told my kids, go to an adult and report it," Ms. LeBlanc says. But she adds that there are probably many people who stay silent.
"I think there's an awful lot of bullying and violence going on that people either just don't want to come forward with or think if they come forward with it it's not going to go anywhere anyway."
Ms. LeBlanc's son has been home-schooled since January and is expected to attend a new school next month.
Sometimes parents may need to put their children in a different school, Ms. Pepler says.
"That is a last resort, but it is something that parents do. If you feel that a school isn't being responsive and protecting your child and you've done everything that you can possibly do to protect your child, sometimes changing context can work," she says. However, that may not be an option for people living in rural areas, Ms. Pepler adds.
Above all, parents whose kids are being bullied must be diligent in seeing the situation resolved, Ms. LeBlanc says.
"Take it as high as you have to," she says. "If you go to the principal and you're not getting answers from there, go to the school board, take it to the police, take it to lawyers. You have to get it stopped."
---

Pediatricians turn away from circumcision
The United States is the only country that routinely circumcises baby boys for non-religious reasons
CNN, U.S.A.
March 1, 1999
ATLANTA (CNN) -- American pediatricians are turning away from the practice of routine circumcision, concluding that doctors have no good medical reason to perform the procedure.
The United States is the only country in the world that routinely removes the foreskins of infant boys. Critics of circumcision got additional ammunition Monday from the American Academy of Pediatrics, a leading medical organization.
The academy concluded the benefits "are not compelling enough" for circumcision to be routinely administered.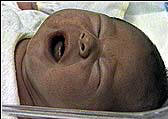 A newborn winces in pain after a circumcision
Monday's statement, published in the March edition of the journal Pediatrics, was the academy's first in 10 years on the practice. But in recent years, medical societies in Canada, Britain and Australia have come out in opposition to routine circumcision.
Critics have long contended that removing the foreskin from the penis is traumatic, medically unnecessary and may reduce sexual pleasure later in life. As one critic, Dr. George Denniston, put it: "Who are we to question mother nature?"
Canadian researchers, whose study was published in this week's Journal of the American Medical Association, studied the heart rates and crying patterns of babies during different stages of circumcision.
In fact, in the study they found the babies suffered so much trauma that they stopped the study part way through.
The results were so compelling that they took the unusual step of stopping the study before it was scheduled to end rather than subjecting any Read More ..bies to circumcision.
One baby stopped breathing for 25 seconds from the trauma of having part of his foreskin severed. Read More ..
Urinary Tract Infections (UTIs) are rare, and mainly occur in the first year of life. They are several times Read More .. common in girls than boys (but of course surgery is never considered for girls).
They are painful, and women's experience of them is a powerful inducement to have sons circumcised, if they imagine that this will protect them. In fact, a significant proportion of boys contract UTIs even though they are circumcised. A study in Israel found they mainly occurred in girls at four months, but in boys soon after they were circumcised.... Now an Australian study suggests circumcision may cause urinary problems. Read More ..