Hatred of males - Misandry
LA Chain Agrees to Pull 'Boys are Stupid' T-Shirts After Storm of Protest from His Side Listeners
Men's News Daily, MND NEWSWIRE, January 6, 2004
The campaign began Sunday evening at 9 PM, and by 9 AM the next morning, it was all over.
Men's and fathers' issues radio talk show host Glenn Sacks declared a campaign against Tilly's clothing store, which sells T-shirts which say "Boys Are Stupid, Throw Rocks at Them" , during the Sunday, January 4 broadcast of His Side with Glenn Sacks in Los Angeles and Seattle. The shirts depict a little boy running away as several rocks come flying at his head.
The next morning Tilly's, which has 32 locations in Southern California, was deluged with angry e-mails and phone calls. Sam Mendelsohn, Tilly's Senior Vice President, issued a statement Monday morning saying he had "immediately instructed the removal of merchandise in question [throw rocks] from all locations." Mendelsohn expressed his "sincere apologies regarding the merchandise."
Several other men's and fathers' groups, including the Seattle-based Separated Parenting Access & Resource Center (SPARC) and the National Coalition of Free Men Los Angeles joined the campaign against the T-shirts. The victory comes on the heels of a similar victory for the men's and fathers' movement in Seattle, when Bon Macy's, a major department store, agreed to remove the offensive T-Shirts from its stores in December. Bon Macy's was deluged with letters and phone calls after Sacks had issued a similar call for action during the December 14 broadcast of His Side
The shirts are distributed by David & Goliath, which says the shirts are among their best-sellers. As FOX news columnist Wendy McElroy noted in her column Christmas in a War Zone , the company also sells products which say "Boys Lie -- Make Them Cry" and "Boys are Smelly -- Throw Garbage Cans at Them." She wrote that animation on the David & Goliath website depicts a "'Stupid Factory'...where boys are produced...a little girl pelts [the boy] on the skull with a large rock and he tumbles, landing with his head planted fully in the earth."
During his January 4 broadcast Sacks gave out Tilly's contact information and urged his listeners to "write them and call them and light them up. Be polite, but let them know exactly how you feel....degrading boys, insulting them, making our schools a hostile environment for them--we' re not taking it any more "
After Tilly's decision to remove the shirts was announced, Sacks said that he "applauds the store for its wise and humane decision." He says that he has already chosen the next target for what he called "round 3" of the battle, which will begin with his next broadcast on Sunday January 11.

So why are retailers having second thoughts?
The National Post, Georgie Binks, Saturday Post, May 29, 2004
Three teenaged girls, ponytails swinging, riffle through the T-shirts at a Bluenotes clothing store in Toronto's Yorkdale Shopping Centre. They giggle when they spy a T-shirt with the words, "Boys Are Stupid, Throw Rocks at Them" emblazoned on the front. Lisa Sanzo, 16, shakes her head, "They're pretty stupid, kind of childish. I would never buy one."
Laurie A. Couture
www.laurieacouture.com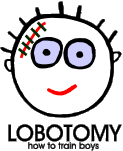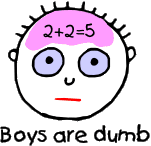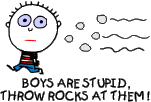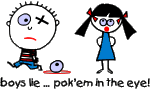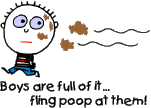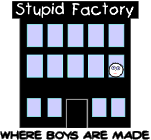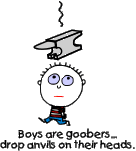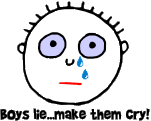 For the past five years, the feminist-promoted trend of "girl power" has gradually evolved into what has now become a conceited, self-righteous pop-culture fad of hatred towards boys. Recently, the David and Goliath T-shirt Company's "Boys are Stupid" line of T-shirts and merchandise has gained popularity with girls, making a fashion statement out of promoting hatred, sexism and abuse against boys - in the name of "fun" and humor.
Despite the pervasive popularity of male bashing and boy-neglect in the past decade, men have been largely silent in demanding and end to this reactive sexism. Corporations are cashing in on this opportunity. However, with the arrival of the David and Goliath "Boys are Stupid" product line, male activists such as Glenn Sacks, as well as women and girls, have been demanding that stores immediately cease carrying these offensive products. Several chain stores have complied, including Claire's and Bon Macys. However, David and Goliath itself remains firm that the shirts are their biggest sellers, and will not be pulled from production.
The anti-male radical feminism of this decade has strayed embarrassingly far from the feminism of the 1960s, which sought to promote equality between two equally valuable sexes.

ST. STEPHEN, N.B. - A New Brunswick judge says a woman who burned and dismembered her newborn son is criminally responsible for her actions.
Becky Sue Morrow earlier pleaded guilty to offering an indignity to a dead body and disposing of a newborn with the intent of concealing a delivery.
Judge David Walker ruled Friday that the 27-year-old woman may have been suffering from a mental disorder when she delivered the baby but that that was not the case when the baby's body was burned and its remains hidden.
It is not known if the baby was alive at the time of birth.
At a hearing last month, the court heard contrasting reports from the two psychiatrists. One said Ms. Morrow was in a "disassociated" mental state when the crime occurred. The other said she clearly planned her actions and understood the consequences.