Virtual Library of Newspaper Articles
Medical Post
B.C. college tightens its circumcision recommendations
(The Medical Post is a tabloid distributed free of charge to Canadian MDs.), By Lynn Haley, July 6th, 2004
VANCOUVER - Opponents of circumcision are applauding a new policy statement issued by the B.C. College of Physicians and Surgeons.
Dr. Peter Seland, deputy registrar (ethics) of the college, said the new statement is intended to help physicians navigate this minefield.
The statement advises that circumcision may be carried out only when it is in the best interests of the child. It also says the procedure has no medical or prophylactic values and that doctors must advise parents of the associated risks including urinary tract infection, urinary retention, meatal stenosis and hemorrhage (as was seen in a recent B.C. case that resulted in the death of a one-month-old).
Doctors are under no obligation to circumcise the child at the request of parents, the statement says.
"There is a never-ending stream of concerns that we get at the college around this issue," said Dr. Seland. "There is nothing in terms of the intensity of the debate that separates this from abortion. People have very strong views about this issue.
"But when you cut through it all and examine it, it appears there is still a small portion of our society that might have been making the decision without being fully informed as to its implications, making decisions on such flimsy grounds as 'We want him to be like daddy.' So we really wanted a tool for physicians to look at, and think about where we're at, not just from a medical point of view."
The trump of course, Dr. Seland said, is the cultural and religious aspects of circumcision— unlike female genital mutilation which, Dr. Seland says, is off-the-wall.
"Since male circumcision is neutral medically, you can't really say that medical indications trump religious preferences," he noted. "The flames were fanned when that baby died in Penticton. It spurred us on to come out with this guideline."
Such a procedure at birth could conceivably have a traumatic effect in later years, said Dr. Seland. "There is (also) the issue that a decision has been made by the parents to do this on weak grounds, and the result is the adult male is denied erogenous pleasure, though I don't know whether anybody will ever know that for certain," he said.
Dennis Harrison, a spokesman for the Canadian group Association for Genital Integrity, welcomes the changes in policy from the college. He says the focus on bioethics and human rights will help provide physicians with the tools they need to guide parents around the complex issues surrounding the procedure.
"This is very difficult for many parents, because there is often the conflict between the parents' rights and the child's right," said Harrison. "But in a country like Canada, the vast majority of circumcisions are not done for religious reasons. . . . It's true that parents are responsible for making decisions on behalf of their children, but there is no surgical operation a parent can consent to without medical need, and circumcision is not medically necessary. We applaud the college's guidelines, but we think they could have gone further."
The college's statement can be viewed at http://www.cpsbc.ca/

Pediatricians turn away from circumcision
The United States is the only country that routinely circumcises baby boys for non-religious reasons
CNN, U.S.A.
March 1, 1999
ATLANTA (CNN) -- American pediatricians are turning away from the practice of routine circumcision, concluding that doctors have no good medical reason to perform the procedure.
The United States is the only country in the world that routinely removes the foreskins of infant boys. Critics of circumcision got additional ammunition Monday from the American Academy of Pediatrics, a leading medical organization.
The academy concluded the benefits "are not compelling enough" for circumcision to be routinely administered.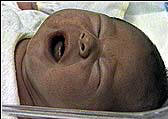 A newborn winces in pain after a circumcision
Monday's statement, published in the March edition of the journal Pediatrics, was the academy's first in 10 years on the practice. But in recent years, medical societies in Canada, Britain and Australia have come out in opposition to routine circumcision.
Critics have long contended that removing the foreskin from the penis is traumatic, medically unnecessary and may reduce sexual pleasure later in life. As one critic, Dr. George Denniston, put it: "Who are we to question mother nature?"
Canadian researchers, whose study was published in this week's Journal of the American Medical Association, studied the heart rates and crying patterns of babies during different stages of circumcision.
In fact, in the study they found the babies suffered so much trauma that they stopped the study part way through.
The results were so compelling that they took the unusual step of stopping the study before it was scheduled to end rather than subjecting any Read More ..bies to circumcision.
One baby stopped breathing for 25 seconds from the trauma of having part of his foreskin severed. Read More ..
Urinary Tract Infections (UTIs) are rare, and mainly occur in the first year of life. They are several times Read More .. common in girls than boys (but of course surgery is never considered for girls).
They are painful, and women's experience of them is a powerful inducement to have sons circumcised, if they imagine that this will protect them. In fact, a significant proportion of boys contract UTIs even though they are circumcised. A study in Israel found they mainly occurred in girls at four months, but in boys soon after they were circumcised.... Now an Australian study suggests circumcision may cause urinary problems. Read More ..