Virtual Library of Newspaper Articles

LA Man Denies Killing Daughter to Avoid Payment
Reuters, Los Angeles, California, U.S.A., July 26, 2004
LOS ANGELES (Reuters) - A Los Angeles man accused of pushing his 4-year-old daughter from an ocean cliff to avoid child support payments pleaded innocent on Monday to murder charges that could carry the death penalty.
Cameron John Brown, 42, faces charges of murder and special allegations of lying in wait and murder for financial gain nearly four years after his daughter, Lauren Key, was found dead at the foot of a cliff along the Pacific Ocean.
Brown told police that he and Lauren were separated during a Nov. 8, 2000 hike along a popular trail that runs along the Palos Verdes cliffs, about 25 miles south of Los Angeles. He said he later found the child floating in the water at the foot of Inspiration Point, a cliff that drops 120 feet to the Pacific Ocean, prosecutor Craig Hum said.
Brown, a baggage handler at Los Angeles International Airport, had virtually no contact with the girl until she was about three years old and her mother sued him for child support, Hum said.
After paternity tests showed that he was Lauren's father, Brown was ordered to pay $1,000 a month in child support -- a significant portion of his income, Hum said.
"As soon as he was ordered to pay child support, he requested visitation and a reduction in the child support," Hum said. "The judge granted visitation and denied the reduction in child support."
Brown was gradually allowed unsupervised visits with Lauren, and it was during a day visit with her that investigators believe he hoisted her over the cliff, Hum said. Brown has been jailed without bail since his November arrest.
Reuters 2004. All Rights Reserved.
Dr. Sandford L. Braver and Diane O'Connell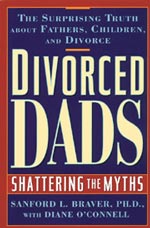 This is the result of the largest federally funded 8 year study of the issues confronting parents and their children in the United States.
Shattering the Myths. The surprising truth about fathers, children and divorce. Read More ..

The Sydney Morning Herald
February 3, 2005
Divorced fathers are Read More ..volved in their children's lives than conventional wisdom would have it, a new study shows.
It shows surprisingly varied and flexible care patterns among separated families, with "every other Saturday" contact giving way to Read More ..ild-focused arrangements.
Australian Institute of Family Studies research fellow Bruce Smyth has produced the first detailed snapshot of parent-child contact after divorce anywhere in the world. Published today in the institute's journal Family Matters, the analysis has implications for children's emotional and financial wellbeing.
Other research indicates children of separated families do best when they have multifaceted relationships, including sleepovers, sharing meals and doing schoolwork, with both parents. Read More ..
Fatherlessness

The Telegraph, London, U.K.
Researchers say they found a direct relationship between children's behavioural problems and the amount of contact they had with their natural father.
The effect was more pronounced in single-parent families, particularly where the mother was a teenager. In such cases, children were especially vulnerable emotionally if they had no contact with their father. Read More ..
The Mythologies behind Custody-Access-Support

>
When 50 percent of marriages end in divorce and 43 percent of children are left with one parent, everyone is affected: uncles, aunts, grandparents, and friends, but mostly, the children. The devastation from our divorce practices is our most public secret scandal. Everyone whispers it, the whispers never acknowledged. It seems that as long as a villain can be created, society is content.
After three decades of research universally pointing to more productive options, why does Custody-Access-Support remain? Read More ..

Research proves that fatherhood really matters