Virtual Library of Newspaper Articles

No jail time for Lafave
The former middle school teacher pleaded guilty to the charges in Hillsborough and Marion counties. She will serve three years of community control.
Ste. Petersburg Times, Tampa, Florida, U.S.A., By CANDACE RONDEAUX, November 22, 2005
TAMPA - Debra Lafave, the former Tampa middle school teacher accused of having sex with a 14-year-old male student, will avoid prison under a plea deal announced Tuesday.
Lafave, whose trial was scheduled to start Dec. 5, agreed to plead guilty to two counts of lewd and lascivious battery, a felony, in exchange for a sentence of two years community control on the first count and one year on the second count. Those sentences will be served consecutively and will be followed by seven years of probation. Community control is a form of house arrest.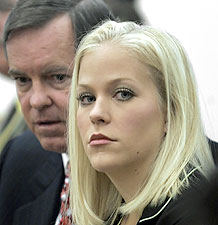 Lafave will be allowed to petition the court to convert her third year of community control to probation if she successfully completes the first two. The plea deal will also cover charges Lafave faces in Marion County for having sex with the boy there.
She was arrested in June 2004 after police said she had sex with the Greco Middle School student at her townhouse, classroom and in her car. The case of the attractive 25-year-old teacher soon became major fodder for tabloid newspapers and television shows, drawing international attention. She faced up to 15 years in prison on each of the counts against her.
Hillsborough prosecutor Michael Sinacore said the state, which previously had insisted on prison time, agreed to the new plea deal at the request of the victim's family.
"The victim's family relayed to us they wanted this case over with. Unfortunately, the intense media coverage in this case has put the victim in even more of a spotlight than could be anticipated," Sinacore said.
Lafave also must complete a sex offender treatment program.
In a statement to the court, Lafave apologized Tuesday to the victim and his family, and said "I accept full responsibility for my actions, and I am very sorry for everything that has occurred."
Lafave's attorney, John Fitzgibbons, had planned to use the insanity defense. At one point as the case progressed, plea negotiations broke down, with Fitzgibbons saying the state wanted three years in prison, which he considered too much.
"To place an attractive young woman in that kind of hell hole is like placing a piece of raw meat in with the lions," he said in July. "I don't think Debbie could survive it."