Virtual Library of Newspaper Articles

Teacher gets six months
The Standard-Freeholder, Cornwall, ON, By DAVID NESSETH, October 30, 2008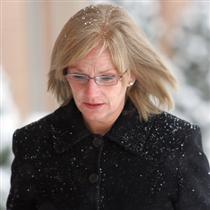 Dorland is in her early 40s; the boy - whose identity is protected by a publication ban - was 13 at the time of the incident at Dorland's Ingleside home.
Dorland, who is now known as Jennifer Toews, was found guilty of sexual assault, sexual interference and invitation to sexual touching on Dec. 20, 2007.
"She's paid a heavy price already," said a friend of Dorland, who attended the hearing, but asked not to be named. "She's lost her job, her prestige, and her standing in the community."
The older gentleman consoled a group of women who wept at the judge's decision.
"It seemed promising when the judge first started speaking, but then came the legal points," he added.
Crown Jennifer Burke had asked Justice Julianne Parfett that Dorland serve a 15-month sentence as a general deterrent and denunciation of this type of breach of trust.
Dorland's lawyers said she deserved a 12 to 18 month conditional sentence, most of which should be served under house arrest.
Earlier in the trial, the teen testified that Dorland drove him to her Ingleside home one morning in September 2004, where for two hours they kissed and fondled each other. He also testified of further sexual contact with Dorland in her car and during and after a series of tutoring sessions around the same period.
Parfett had previously questioned Dorland's credibility and pointed to several "troubling aspects" in her evidence, includingaseriesof e-mails she sent the teen.
In May, the Ontario College of Teachers withdrew the teaching licence of Jennifer Dorland, after finding her guilty of eight counts of professional misconduct under the Ontario College of Teachers Act.
Dorland is also subject to two years probation after her jail term and must submit a DNA sample so her name can be added to the sex offender registry.