Virtual Library of Newspaper Articles

Boys harmed by fathers' absence
The Age (Melbourne, Australia), By CHLOE SALTAU, Tuesday April 3, 2001
Boys are disadvantaged without the emotional presence of a man in their lives, according to a social researcher who is interviewing men about relationships with their fathers.
Patra Antonis, a psychologist, counsellor and Swinburne University masters student, says men should "be around the herd" and bond with their sons in an inherently male, "rough-and-tumble" way. Her theory is likely to reignite the debate about the impact of absent fathers on the development of their sons.
Ms Antonis is undertaking the research at a time when she says increases in the divorce rate and the rise of out-of-wedlock childbearing have changed families and the role of parents within them.
Her experience counselling men at her private practice in Elsternwick has convinced her that boys are disadvantaged without a man in their lives, although she says it is the emotional presence that counts.
It does not matter so much if a father is physically absent, so long as there is a close emotional bond. That bond can also be between a boy and his non-biological father.
Previous research has shown that the absence of a father figure damages boys' academic and psychological development and their future relationships. It also increases the risk of delinquency, drug addiction and even suicide.
Many of the men who Ms Antonis has seen feel "a great hollow" as adults because of their fathers' emotional absence when they were children.
"Just as oestrogen affects, in subtle ways, women's behavior, the fact is testosterone does affect the behavior of men so they are more active and external ... They need to cater to the inherent nature of the beast, but also in a civilised and loving way," she says.
However, the National Council of Single Mothers and their Children said "father-yearning" often came from the social expectation that children should be raised in a "normal family" with a mother and a father.
Children should not feel doomed if their father could not be with them.
Co-executive officer Elspeth McInness said children should instead be surrounded with as many caring, responsive, consistent, supportive adults as possible.
Research released by the Australian Institute of Family Studies suggests most children adjust to different family structures and "cope adequately" after the breakdown of a marriage whether they live with their mother or father.
Another institute study found fathers who had never been married to the mother of their children and subsequently left the relationship were less involved with their children than fathers who had been married. The fathers who had never married also felt less obliged to provide financial support.
"These results are of concern, especially given the increasing recognition of the benefits of paternal participation in separated family situations," said author Maggie Walter.
She also said "the level of emotional bonding between father and child, and the use by the father of an authoritative parenting style, were found to be positively related to schooling success and negatively related to problem behavior".
Ms Antonis said governments should develop policies that encouraged fathers to "be around the herd" and involve themselves vigorously in their sons' upbringing. She is seeking men between 20 and 35 to participate in her study.

By Kathleen Parker, The Orlando Sentinel, USA, on July 18, 1999
Now is the time for all good fathers to come to the aid of the family.
But you'd better hurry; your days are numbered. In fact, if you happen to be a heterosexual male (further doomed by Caucasian pigmentation), your days are already over, according to a cover article in the June issue of American Psychologist, published by the American Psychological Association.
In their article, "Deconstructing the Essential Father," researchers Louise B. Silverstein and Carl F. Auerbach challenge one of the core institutions of our culture -- fatherhood. Read More .. less, fathers, as we've known and loved them, are obsolete.
The article makes numerous breathtaking assertions, but basically the researchers state that fathers aren't essential to the well-being of children Read More ...
Quakers United Nations Office
July 2009
Children are heavily impacted by parental imprisonment and greater attention should be given to their rights, needs and welfare in criminal justice policy and practice. Due to a variety of reasons such as mothers often being the primary or sole carer of children, complicated care arrangements, the likelihood of women prisoners being greater distances from home and a host of factors explored in detail in other QUNO publications, maternal imprisonment can be more damaging for children than paternal imprisonment. However, it is important not to underestimate the damage that paternal imprisonment can have on children.
Children with incarcerated fathers experience many of the same problems as those with incarcerated mothers, including coping with loss, environmental disruption, poverty, stigmatisation, health problems and all of the difficulties involved in visiting a parent in prison. It appears that there are also some difficulties specifically associated with paternal imprisonment, such as a higher risk of juvenile delinquency and strained relationships between the mother and child.
The numbers of children separated from their fathers due to imprisonment is far higher than those separated from their mothers due to the vast majority of prisoners being men (globally over 90 per cent of prisoners are male. To ignore this group would, therefore, be to neglect the vast majority of children affected by parental imprisonment. Read More ..

USA TODAY, June 10, 2003
It's widely recognized that boys benefit from having dads around as role models and teachers about manhood.
But does having a father at home make much difference for girls?
But even in affluent families, girls become sexually active and pregnant earlier if they don't live with fathers, according to the largest and longest-term study on the problem. It was released in May.
Compared with daughters from two-parent homes, a girl is about five times more likely to have had sex by age 16 if her dad left before she was 6 and twice as likely if she stops living with her dad at 6 or older.
The study of 762 girls for 13 years took into account many factors that could lead to early sex, says Duke University psychologist Kenneth Dodge, the study's co-author. Still, there was an independent link between teenage sex and girls not living with their biological fathers. Read More ..
Dr. Sandford L. Braver and Diane O'Connell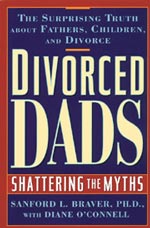 This is the result of the largest federally funded 8 year study of the issues confronting parents and their children in the United States.
Shattering the Myths. The surprising truth about fathers, children and divorce. Read More ..

The Sydney Morning Herald
February 3, 2005
Divorced fathers are Read More ..volved in their children's lives than conventional wisdom would have it, a new study shows.
It shows surprisingly varied and flexible care patterns among separated families, with "every other Saturday" contact giving way to Read More ..ild-focused arrangements.
Australian Institute of Family Studies research fellow Bruce Smyth has produced the first detailed snapshot of parent-child contact after divorce anywhere in the world. Published today in the institute's journal Family Matters, the analysis has implications for children's emotional and financial wellbeing.
Other research indicates children of separated families do best when they have multifaceted relationships, including sleepovers, sharing meals and doing schoolwork, with both parents. Read More ..
Fatherlessness

The Telegraph, London, U.K.
Researchers say they found a direct relationship between children's behavioural problems and the amount of contact they had with their natural father.
The effect was more pronounced in single-parent families, particularly where the mother was a teenager. In such cases, children were especially vulnerable emotionally if they had no contact with their father. Read More ..
The Mythologies behind Custody-Access-Support

>
When 50 percent of marriages end in divorce and 43 percent of children are left with one parent, everyone is affected: uncles, aunts, grandparents, and friends, but mostly, the children. The devastation from our divorce practices is our most public secret scandal. Everyone whispers it, the whispers never acknowledged. It seems that as long as a villain can be created, society is content.
After three decades of research universally pointing to more productive options, why does Custody-Access-Support remain? Read More ..

Research proves that fatherhood really matters