Virtual Library of Newspaper Articles

Nicole in hot water
The Australian, ( Australia's national daily newspaper), from Strewth in June 14, 2004
NICOLE Kidman is in for a rocky week if the US supermarket tabloid The National Enquirer is to be believed.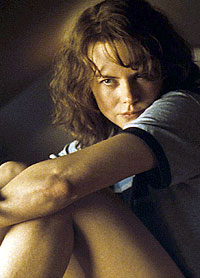 Controversial ... Nicole's latest role might be locked away.
Her latest movie, Birth - made after the soon-to-open Stepford Wives - see the Australian Oscar winner Kidman play a young widow who falls in love with a 10-year-old boy she believes is the reincarnation of her dead husband.
But executives from New Line Cinema, the production company, are reportedly considering pulling the $US50 million ($72 million) flick because of scenes showing Kidman bathing naked with the young lad.
Sources told the Enquirer that the film had undergone a string of creative battles and rewrites.
Now executives have told the film's executive producers that the two scenes - showing Kidman and the boy stripping off and kissing in the bath - are "borderline disgusting" to watch.
It is, according to the public relations company charged with promoting the film, "a publicity nightmare".
Birth, co-starring the legendary Lauren Bacall, is directed by Jonathan Glazer, better known for his work in music videos than feature films.
He has directed clips for British super bands Massive Attack and Radiohead, his first feature film being the gangster caper Sexy Beast in 2000, starring Ben Kingsley and Ray Winstone.