Paternity Testing - some very bad advice from Vancouver Newspaper

Man finds son via at-home DNA test
Father of three sends to States for kit that confirms long-held suspicions
The Province, Vancouver, BC, by Cheryl Chan, Thursday, April 03, 2008
A Surrey man has discovered he has a teenage son after a do-it-yourself DNA paternity test confirmed a nagging 20-year-old suspicion.
Sean Reid said the results gave a paternity probability of 99.99 per cent. "It's 19 years late but this test was starting a new life for all parties involved," said Reid, 37.
Reid has always wondered whether a baby boy born to a former girlfriend was his. He asked her twice, but she insisted he was not the father, and he let the matter drop.
Sean Reid of Surrey (right) puts his arm around his son, Jake, 19, of Kelowna, after a do-it-yourself DNA test confirmed Reid's paternity.
"I was at the ripe age of 16, she was 15," said Reid, a nurse at Surrey Memorial Hospital. "A 16-year-old boy is going to take the girl's word as true and I didn't want to be a dad anyway, so I didn't push the issue."
He lost touch with the ex-girlfriend in 1989. Last fall, he reconnected with her through Facebook. While flipping through her photos on the social-networking site, he came across pictures of 19-year-old Jake who, he thought, bore a striking resemblance to himself.
Reid asked his wife for a second opinion. "She said no, no, no, as we looked at photos until in one of them she stopped and went, 'Oh my, that's you,'" said Reid.
In Kelowna, Reid's ex-girlfriend was looking at Reid's photos online. "From that moment on, I knew my life had changed," she said, adding she had always believed Jake was not Reid's son.
Now married for 18 years, she does not want her name published until she tracks down the man she thought was Jake's father to tell him the news, even though he's been out of Jake's life since he was a baby.
When Reid started researching paternity-test options in Canada, he was put off by the $400 to $1,000 price tag and began checking out options in the U.S.
He stumbled across Identigene DNA paternity test kits, which hit store shelves in western U.S. states last fall. The kits retail for $29.99 US, plus a $119 lab fee. Reid bought his in Bellingham, Wash., on sale for $17.99.
He mailed Jake and Jake's mother two sets of swabs and got the samples back in two days. After obtaining his own sample by swabbing the inside of his cheek, he mailed everything to a lab in Utah. The test results will not hold up in court because paternity tests for legal cases have to be taken by a qualified medical practitioner. But Reid, who just wanted a conclusive answer, doesn't care.
When the lab results came back saying he is 22,124,787 times more likely to be Jake's dad than any other man, he was overjoyed. "I called my wife quickly and congratulated her on getting a new son without the pregnancy, birth and labour."
Jake, on the other hand, was initially "weirded out," said his mom. He quickly recovered and his first question was "How does Dad feel?" referring to his stepdad.
"That told me what a quality job she's done with him," said Reid. "He's been raised in an awesome home. I'm the birth father, but his dad is his dad."
On Valentine's Day, the day after Reid got the results, he and his wife drove to Kelowna to meet his newest, and eldest, son and his family.
With butterflies in his stomach, Reid handed Jake 19 birthday cards. In return, Jake handed him a scrapbook detailing his life. Reid plans to go back to Kelowna next week, this time with three other sons, aged seven, two and 10 months, in tow. Seven-year-old Cameron is "beside himself with excitement," said Reid.
He plans to let the newfound relationship with Jake take its course. "I'm interested in pursuing whatever relationship Jake is willing to pursue," he said. "As much as I'd like to be directly involved in his life, I need to be sensitive about what he wants."
Family studies Prof. James Ponzetti of the University of B.C. said at-home DNA tests don't have all the answers. "We expect science to solve these difficult issues, but all it gives us is Read More ..formation," he said. "Once the dad knows, then what?"
Reid said he's heard of a "heartbreaking" story where a dad did an at-home paternity test and walked out on his family when he found out he wasn't the child's father. "There's many possibilities of negative impact," he acknowledged.
But Reid is choosing to focus on the positive. "I can think I've lost 19 years or I can think I know now and gained a son."
chchan@png.canwest.com
© The Vancouver Province 2008
Urinary Tract Infections (UTIs) are rare, and mainly occur in the first year of life. They are several times Read More .. common in girls than boys (but of course surgery is never considered for girls).
They are painful, and women's experience of them is a powerful inducement to have sons circumcised, if they imagine that this will protect them. In fact, a significant proportion of boys contract UTIs even though they are circumcised. A study in Israel found they mainly occurred in girls at four months, but in boys soon after they were circumcised.... Now an Australian study suggests circumcision may cause urinary problems. Read More ..

Pediatricians turn away from circumcision
The United States is the only country that routinely circumcises baby boys for non-religious reasons
CNN, U.S.A.
March 1, 1999
ATLANTA (CNN) -- American pediatricians are turning away from the practice of routine circumcision, concluding that doctors have no good medical reason to perform the procedure.
The United States is the only country in the world that routinely removes the foreskins of infant boys. Critics of circumcision got additional ammunition Monday from the American Academy of Pediatrics, a leading medical organization.
The academy concluded the benefits "are not compelling enough" for circumcision to be routinely administered.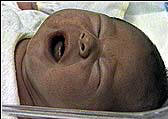 A newborn winces in pain after a circumcision
Monday's statement, published in the March edition of the journal Pediatrics, was the academy's first in 10 years on the practice. But in recent years, medical societies in Canada, Britain and Australia have come out in opposition to routine circumcision.
Critics have long contended that removing the foreskin from the penis is traumatic, medically unnecessary and may reduce sexual pleasure later in life. As one critic, Dr. George Denniston, put it: "Who are we to question mother nature?"
Canadian researchers, whose study was published in this week's Journal of the American Medical Association, studied the heart rates and crying patterns of babies during different stages of circumcision.
In fact, in the study they found the babies suffered so much trauma that they stopped the study part way through.
The results were so compelling that they took the unusual step of stopping the study before it was scheduled to end rather than subjecting any Read More ..bies to circumcision.
One baby stopped breathing for 25 seconds from the trauma of having part of his foreskin severed. Read More ..