Virtual Library of Newspaper Articles


Canada's largest newspaper
Child care to get $5B boost
Five-year plan aims to create national program
Ottawa promises first $700 million without strings
The Toronto Star, by Laurie Monserbraaten, Staff Reporter, Feb. 24, 2005
OTTAWA—The first $700 million of Ottawa's long-awaited $5 billion national child-care initiative goes to the provinces this year with no strings attached.
The money, to be paid through a third-party trust and available to provinces according to population, is a sign of "good faith" while federal, provincial and territorial governments continue to negotiate a formal funding agreement, Social Development Minister Ken Dryden said.
Dryden was hoping to secure a deal in Vancouver earlier this month, but his provincial and territorial counterparts balked, saying they wanted to see Ottawa's financial commitment in the budget before signing on.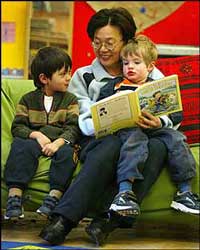 STEVE RUSSELL/TORONTO STAR
Early childhood education teacher Christine Leslie reads with Marco, left, and Finn as parents and child-care providers watch Finance Minister Ralph Goodale deliver his budget on television in the library at Withrow Park Public School in Toronto yesterday
"Most of the jurisdictions were very, very close in terms of an agreement," Dryden told reporters yesterday. "With this commitment, with this trust fund, with this money, we're on the ground."
Dryden expects the agreement to be final in several months.
As expected, the budget allocates $5 billion over five years to begin building a national system of early learning and child care.
Beyond this year's $700 million pledge, the budget allocates $700 million for next year and then ramps up spending to $1.2 billion a year for the last three years. Ontario's share is about $300 million this year.
Although the budget didn't say how much federal money would be available beyond 2010, Finance Minister Ralph Goodale suggested Ottawa is committed for the long term.
Of the total $5 billion committed, $100 million will go to natives on reserves and another $100 million will be spent on an independent "accountability package" to support research into measuring quality and tracking progress of various provincial initiatives.
About 70 per cent of Canadian mothers of children under six are working, but just 20 per cent of young children have access to regulated child-care spaces.
"There can be no Read More ..portant commitments than those we make to our children," Goodale said. "A good start in their earliest years can level the playing field, inspire confidence, foster life skills, encourage ambition and make possible greater goals."
Child-care advocates and federal opposition critics applauded the government for its "historic" financial commitment to child care. But they criticized the lack of accountability for Ottawa's initial $700 million investment this year.
"By beginning with one of the least accountable funding mechanisms, it's not a good starting point," said Kerry McCuaig of the Better Child Care Education Foundation.
"We're pleased that a minority government has actually delivered a national child-care program," said NDP MP Tony Martin (Sault Ste Marie). But he slammed the plan for its lack of accountability in the first year.