Virtual Library of Newspaper Articles

Court weeps as siblings recall beatings
Foster parents recall siblings' words
Judge to rule whether to allow this evidence
Toronto Star, NICK PRON, COURTS BUREAU, Nov. 1, 2005
Spectators wept in a downtown courtroom yesterday as the trial of two grandparents facing murder charges in the death of 5-year-old Jeffrey Baldwin heard about life in his house through the eyes of his three siblings.
The two girls and a boy — their identities protected by a publication ban — were taken from their east-end home after Jeffrey died on Nov. 30, 2002, and now live with foster parents.
It was their "utterances," comments they made to the foster parents and a case worker with the Catholic Children's Aid Society, that were recalled by witnesses during legal arguments to decide if the remarks can be used as evidence against their grandparents, Elva Bottineau, 54, and her common-law husband, Norman Kidman, 53.
Both have pleaded not guilty to one count each of first-degree murder and unlawful confinement in the trial by judge alone.
One girl had a rash covering most of her body but wasn't given any cream to treat it "because I was a bad girl and I wasn't allowed to have it any more" she later told foster parent Susanna Borrrelli-Cisterna while she washed lice from the child's head, she recalled.
She had the sisters for three days in emergency care when they were taken from the couple. Since then, the children have been placed in different foster homes, the court heard.
One comment in particular brought tears to one spectator, Jeffrey's "other" grandmother, Susan Dimitriadis, a regular at the trial who is trying to get visitation rights to the grandchildren she has not seen for nearly six years.
"I have to go to my room when someone comes over because I stink," the same girl said later to Michelle Rose, a case worker with the society, recalling the child's words.
The four children had been living with Bottineau and Kidman, who got control of them through a court order after their mother was allegedly abusive towards them, the trial has heard.
The children called Bottineau and Kidman "Mom" and "Dad" even though they were the grandparents, testified Pauline Simpson, who provided emergency care for the boy after he was taken from his home.
When Simpson asked the boy, 4 at the time, about Jeffrey's treatment, he told her: "Sometimes Dad (Kidman) gets mad and beats his ass real good."
She said the boy told her that Jeffrey's room was "always real cold and he doesn't have any blankets."
nder cross-examination from Anil Kapoor, the lawyer for Bottineau, and later, Robert Richardson, Kidman's lawyer, Simpson agreed she never made notes of what the boy said, and was recalling his words from memory.
The trial resumes today.
A Mother's Heartbreaking Story of Parental Alienation Syndrome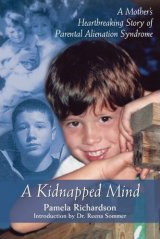 What does Parental Alienation Syndrome mean? In my case, it meant losing a child. When Dash was 4 1/2 years old his father and I broke up. I dealt with the death of our marriage and moved on but Peter stayed angry, eventually turning it toward his own house, teaching our son, day by day, bit by bit, to reject me. Parental Alienation Syndrome typically means one parent's pathological hatred, the other's passivity and a child used as a weapon of war. When Dash's wonderful raw materials were taken and shaken and melted down, he was recast as a foot soldier in a war against me. Read More ..