Virtual Library of Newspaper Articles

Court weeps as siblings recall beatings
Foster parents recall siblings' words
Judge to rule whether to allow this evidence
Toronto Star, NICK PRON, COURTS BUREAU, Nov. 1, 2005
Spectators wept in a downtown courtroom yesterday as the trial of two grandparents facing murder charges in the death of 5-year-old Jeffrey Baldwin heard about life in his house through the eyes of his three siblings.
The two girls and a boy — their identities protected by a publication ban — were taken from their east-end home after Jeffrey died on Nov. 30, 2002, and now live with foster parents.
It was their "utterances," comments they made to the foster parents and a case worker with the Catholic Children's Aid Society, that were recalled by witnesses during legal arguments to decide if the remarks can be used as evidence against their grandparents, Elva Bottineau, 54, and her common-law husband, Norman Kidman, 53.
Both have pleaded not guilty to one count each of first-degree murder and unlawful confinement in the trial by judge alone.
One girl had a rash covering most of her body but wasn't given any cream to treat it "because I was a bad girl and I wasn't allowed to have it any more" she later told foster parent Susanna Borrrelli-Cisterna while she washed lice from the child's head, she recalled.
She had the sisters for three days in emergency care when they were taken from the couple. Since then, the children have been placed in different foster homes, the court heard.
One comment in particular brought tears to one spectator, Jeffrey's "other" grandmother, Susan Dimitriadis, a regular at the trial who is trying to get visitation rights to the grandchildren she has not seen for nearly six years.
"I have to go to my room when someone comes over because I stink," the same girl said later to Michelle Rose, a case worker with the society, recalling the child's words.
The four children had been living with Bottineau and Kidman, who got control of them through a court order after their mother was allegedly abusive towards them, the trial has heard.
The children called Bottineau and Kidman "Mom" and "Dad" even though they were the grandparents, testified Pauline Simpson, who provided emergency care for the boy after he was taken from his home.
When Simpson asked the boy, 4 at the time, about Jeffrey's treatment, he told her: "Sometimes Dad (Kidman) gets mad and beats his ass real good."
She said the boy told her that Jeffrey's room was "always real cold and he doesn't have any blankets."
nder cross-examination from Anil Kapoor, the lawyer for Bottineau, and later, Robert Richardson, Kidman's lawyer, Simpson agreed she never made notes of what the boy said, and was recalling his words from memory.
The trial resumes today.

NEWSWEEK, U.S.A.
May 7, 2007
Many celebrities would shrink from view after a PR nightmare like Alec Baldwin's leaked voice mail in which he calls his 11-year-old daughter, Ireland, a "rude, thoughtless little pig." But Baldwin wants to use the media scrutiny to give exposure to parental alienation, the controversial "syndrome" caused by one parent's systematically damaging a child's relationship with the other parent. Read More ..
A Mother's Heartbreaking Story of Parental Alienation Syndrome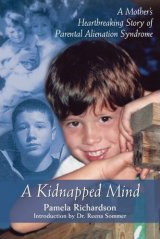 What does Parental Alienation Syndrome mean? In my case, it meant losing a child. When Dash was 4 1/2 years old his father and I broke up. I dealt with the death of our marriage and moved on but Peter stayed angry, eventually turning it toward his own house, teaching our son, day by day, bit by bit, to reject me. Parental Alienation Syndrome typically means one parent's pathological hatred, the other's passivity and a child used as a weapon of war. When Dash's wonderful raw materials were taken and shaken and melted down, he was recast as a foot soldier in a war against me. Read More ..

Rick James Lohstroh, a doctor at UTMB, was fatally shot this summer, apparently by his 10-year-old son.
ABC13 Eyewitness News, Houston, Texas, U.S.A.
Dec. 29, 2004
The 10-year-old Katy boy accused of murdering his father this summer is now the face of an unofficial psychiatric disorder that may have lead to his father's death.
Some psychiatrists call it Parental Alienation Syndrome and they say that's why the son killed Doctor Rick Lohstroh last summer. The syndrome is basically caused by a bitter parent who poisons a child against the other parent, usually in cases of divorce. Read More ...

Study says such cases should be moved out of court system, handled by individual judges
The Globe and Mail
May 13, 2009
An escalation in parental alienation allegations is draining valuable courtroom resources, a major study of 145 alienation cases between 1989-2008 concludes.
"Access problems and alienation cases - especially those which are more severe - take up a disproportionate amount of judicial time and energy," said the study, conducted by Queen's University law professor Nicholas Bala, a respected family law expert.
"One can ask whether the courts should even be trying to deal with these very challenging cases." Read More ..

Courts criticized for recognizing 'parental alienation'
National Post
March 27, 2009
Toronto -- The scope of the courts' reach into family affairs has long been contentious, but a recent trend in Canada's legal system has brought a new controversy that has some onlookers praising judges and others condemning them for accepting what they call "voodoo science."
More than ever before, Canada's judges are recognizing that some children of divorced and warring parents are not simply living an unfortunate predicament, but rather are victims of child abuse and suffering from Parental Alienation Syndrome. Read More ..
Parental Alienation

B.C. judge bars mother from seeing daughter
Court orders one-year ban after 'unfounded' abuse allegations made about teenager's father
THE CANADIAN PRESS
March 10, 2009
VANCOUVER - In a case of extreme parental alienation, a mother has been banned by a B.C. Supreme Court judge from seeing her teenage daughter for more than a year.
Because of the urgency of the matter, Justice Donna Martinson issued the terse, two-page ruling outlining 15 conditions the parents must follow, including that the mother, known only as Ms. A, not see her daughter until at least March 31, 2010.
The decision came after the mother alleged extreme emotional abuse by the father, which she claimed was putting the teenager's safety at risk.
"I am satisfied that Ms. A's allegations are unfounded," Martinson wrote.
"I am further satisfied that she has continued to undermine the relationship between M and her father and has acted in ways that are detrimental to M's psychological healing."
Names have been stripped from the court ruling to protect the girl's identity.
The judge has ordered that both the mother and maternal grandmother have no contact with the girl, which would be enforced by police if necessary.