`Dedicated man' honoured
The Toronto Star, NICHOLAS KEUNG, STAFF REPORTER, March 3, 2004
To many, he's known simply as Charlie.
By day, 60-year-old Charlie is a Bay Street banker — an executive vice-president with RBC Financial Group, his employer for 41 years./p>
But Charlie is also a champion for women's and children's rights and aboriginal communities, who challenges executives to be good corporate citizens./p>
Charlie is Charles Coffey, the recipient of Yorktown Family Services' 2004 Humanitarian Award for Community Service./p>
"Women contribute to our society and children represent the next generation of leaders, a group that needs constant nurturing, caring and feeding," said Coffey, who received the award last night at a gala dinner at The Old Mill Inn./p>
"I am humbled by the award. It means tonight we will have 300 people who will better understand (the issues) and I will continue to act as a disciple on behalf of Yorktown by telling their story wherever I go."/p>
Founded in 1949 as part of the York Public Health Department, the agency, near St. Clair Ave. W. and Dufferin St., became a community organization in 1993, offering a full range of services for children, youth, women and families./p>
"I'm so pleased to be here tonight to honour this very gracious, modest and quietly dedicated man who has done so much for so many," executive director Karen Engel said.
A Mother's Heartbreaking Story of Parental Alienation Syndrome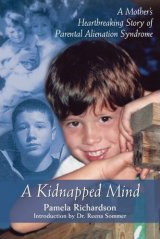 What does Parental Alienation Syndrome mean? In my case, it meant losing a child. When Dash was 4 1/2 years old his father and I broke up. I dealt with the death of our marriage and moved on but Peter stayed angry, eventually turning it toward his own house, teaching our son, day by day, bit by bit, to reject me. Parental Alienation Syndrome typically means one parent's pathological hatred, the other's passivity and a child used as a weapon of war. When Dash's wonderful raw materials were taken and shaken and melted down, he was recast as a foot soldier in a war against me. Read More ..