'Drop the knife,' girl, 9, ordered<
t was only plastic, family explains Oakville guard's actions questioned
Toronto Star, Emily Mathieu, Staff Reporter, Nov. 18, 2004
When Guillermo Mondragon heard the security guard scream, "Drop the knife!" his first instinct was to protect his 9-year-old granddaughter, Ariel.
Then he realized it was his granddaughter the guard was yelling at.
"She was stunned, she stood there frozen," said Mondragon, 55. "She was just pale and shaking."
The guard at Oakville Place Mall yelled at Ariel because she was playing with a plastic retractable knife, Mondragon said.
Mondragon ran over and wrapped his arms around his terrified granddaughter. The guard approached the girl shortly after, Mondragon said, and despite his presence, struck her hand to get her to drop the knife.
"The security guard believed the knife to be real and acted reasonably under the circumstances," said Sergeant Jeff Corey of Halton police.
Corey said the guard did strike the girl's hand but did not use excessive force.
The security office called police and officers arrived at the Mondragon home that evening.
Police "interviewed the mother and the 9-year-old and based on the investigation, no charges are going to be laid," said Corey.
Mondragon, Ariel, her mother Catherine Mondragon and her sister Sariah, 10, went to Oakville Place Mall on Tuesday just before 6 p.m. They were there to renew Catherine's driver's licence sticker at the mall kiosk.
Ariel brought a toy knife she had found at her grandfather's house and was playing with it, three metres away from her family.
That's when the guard approached and began shouting at her to drop the knife, the family said.
She held the knife out and "started crying," Catherine said.
After the girl dropped the knife, it was confiscated by the guard, the family said.
"Our mandate is to ensure the centre is a safe place," said Doug Peters, 48, manager of Oakville Place, who felt that the guard took appropriate action.
"This was a very unusual and isolated incident."
A Mother's Heartbreaking Story of Parental Alienation Syndrome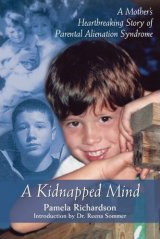 What does Parental Alienation Syndrome mean? In my case, it meant losing a child. When Dash was 4 1/2 years old his father and I broke up. I dealt with the death of our marriage and moved on but Peter stayed angry, eventually turning it toward his own house, teaching our son, day by day, bit by bit, to reject me. Parental Alienation Syndrome typically means one parent's pathological hatred, the other's passivity and a child used as a weapon of war. When Dash's wonderful raw materials were taken and shaken and melted down, he was recast as a foot soldier in a war against me. Read More ..