`

Fewer youths behind bars
Toronto Star, TRACY HUFFMAN, CRIME REPORTER, Oct. 14, 2004
Fewer youths are being sent to jail for their crimes.
The incarceration rate for youths in Canada reached an eight-year low in 2002/2003, according to a Statistics Canada report released yesterday. About 90 per cent of young offenders were on supervised probation, 7 per cent were serving time in jail and 3 per cent were in custody awaiting a court appearance or sentencing.
The Youth Criminal Justice Act, which replaced the former Young Offenders Act in April 2003, reserves jail for young people who have committed serious and often violent crimes.
Even though the study covered a period before the implementation of the Youth Criminal Justice Act, judges were likely anticipating the changes and beginning to apply them in youth courts, said Anthony Doob, a criminologist and professor at the University of Toronto.
"It is possible that all the talk about being more elective in the use of custody had an effect on judges. Also I think a good part of it had to do with the general reduction of the number of cases going into youth court," said Doob, who recently co-wrote a book called Responding to Youth Crime in Canada.
In the past, judges often looked for alternatives to jail for youths but are now required to do so, Doob said.
On any given day during 2002/2003, an average of 29,400 youths were in custody or on supervised probation.
The total number of youths aged 12 to 17 in the correctional system decreased by 6 per cent from 1993/1994 to 2002/2003. Youths held on remand (awaiting a court appearance or sentencing) increased by 21 per cent over the same period, while those sentenced to custody decreased by 35 per cent.
A Mother's Heartbreaking Story of Parental Alienation Syndrome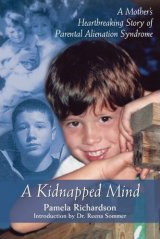 What does Parental Alienation Syndrome mean? In my case, it meant losing a child. When Dash was 4 1/2 years old his father and I broke up. I dealt with the death of our marriage and moved on but Peter stayed angry, eventually turning it toward his own house, teaching our son, day by day, bit by bit, to reject me. Parental Alienation Syndrome typically means one parent's pathological hatred, the other's passivity and a child used as a weapon of war. When Dash's wonderful raw materials were taken and shaken and melted down, he was recast as a foot soldier in a war against me. Read More ..