Virtual Library of Newspaper Articles

Judge lambastes five teens
Booby-trapped park equipment with glass, rocks
Pleaded guilty after placing children in'peril'
BOB MITCHELL, STAFF REPORTER, 19 Nov. 2004
Five teenagers have been placed under house arrest for 30 days and ordered to perform 100 hours of community service for deliberately placing broken glass on slides and monkey bars in a Burlington playground.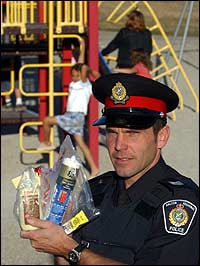 Ted Brellisford - TORSTAR News Service
Halton Sergeant Jeff Corey displays containers of silicone and glue found in garbage cans near Desjardines Park in October.
Justice Richard LeDressay yesterday read the riot act to the youths, two of whom are brothers, telling them they were fortunate nobody was seriously injured or killed when they placed children in "extreme peril."
The teens, aged 14 to 16, admitted they used glue and silicone to stick broken glass, rocks and gravel to the playground equipment in Desjardines Park on the night of Oct. 9.
The park is located on Imperial Way, near a housing complex around Appleby Line and Upper Middle Rd.
"It could have resulted in very serious injury or potentially death for some very young people," LeDressay told the teens in a Burlington courtroom following their convictions on charges of mischief.
He said it was "indeed fortunate" that adults noticed the broken glass and rocks when they went to the popular park the following morning.
The teens' identities and any information that would lead to them being identified are protected under the Youth Criminal Justice Act.
Under the terms of their 30-day confinement, the teens are allowed to leave their homes only for school, work and medical reasons.
Following the 30 days, LeDressay said he expected their parents to impose their own curfew on the teens.
They are also prohibited from contacting each other for the next two years while on probation unless required to during school. (The two brothers are exempt.) Two youths must also stay at least 200 metres away from Desjardines Park; one lives within that distance.
LeDressay stressed that the law prevents him from giving an "in-custody" sentence for the crime of mischief, but if anyone had been injured as a result of their actions, they could have gone to jail.
The high school students made surprise guilty pleas yesterday during their first court appearance since being arrested last month in the heavily publicized case.
At the time, Halton police consulted with Toronto police to determine if the crime was connected to an incident at Woodbine Beach, where 13 utility blades were planted in the sand of a beach volleyball court in September.
Despite numerous tips, nobody has been arrested in the Toronto case.
In admitting their guilt, all five teens said they didn't think of the consequences of their actions that night. The judge said he took that into account when placing them on probation. He also considered that they showed genuine remorse for what they had done, including pleading guilty at the earliest opportunity.
Each of the parents who attended court told LeDressay they were shocked when they learned their children had been involved. Each said their children, who are in grades 10 and 11, had never been in trouble before.
Duty counsel Cathy Hoffman said the incident, which caused shame and embarrassment to the teens and their families, was out of character for them.
Another duty counsel, Elisabeth Cassavoy, said there were small differences between who did what during the group operation, but the teens admitted to being at the park when the glass, rocks and gravel were placed.
The court heard that the plan was hatched at the home of one of the youths the evening of Oct. 9 and the materials came from the same home.