Virtual Library of Newspaper Articles

Dad gets 6 months
Abducted son to Mexico and U.S. in custody battle
The Toronto Sun, Gretchen Drummie, February 24, 1995
A Scarboro dad abducted his son and took him out of the country for 3 1/2 years has been jailed for six months.
"The crime of taking a child from a parent is particularly disturbing because often it is motivated by misguided love for the child." Mr. Justice David McCombs said yesterday, a year to the day after the boy and his mom were reunited.
He said parents considering such action "must know they will face serious consequences even when their behaviour is motivated by love and concern for their child."
McCombs admitted, however that he struggled with determining the right sentence for Pablo Mendez, noting this was one of the most difficult cases he's encountered. He said the abduction happened within a "passionate battle" between the parents over the child. He said a bitterly fought war evolved into allegations of death threats, abuse and even violence.
Mendez, 33, of Scarboro was convicted of being in contravention of custody provisions by taking his son Pablito, now six, out of the jurisdiction on September 23, 1990 and keeping him from his mother Tatiana.
Court heard Mendez pretended he was going on vacation, cleaned out his apartment, rook Pablito and caught a bus to Buffalo before flying to Mexico. He spent months there before moving to San Francisco where he was spotted on a Child Find poster.
McCombs said he heard allegations of violence and abuse by each side and there was evidence of a "bitter" dispute in which "chaos" reigned.
The judge said he took into consideration the mother's actions when determining the sentence. He said she "probably" had threatened Mendez. He also said she was subsequently convicted herself for abducting and beating her mother-in-law after Pablito went missing.
McComb said before the abductions the mother had taken the boy to Bolivia by forging Mendez's signature on a passport application.
McCombs said the father may well have believed he or his child were in imminent danger but that didn't excuse him for not pursuing alternate action.
---

Pediatricians turn away from circumcision
The United States is the only country that routinely circumcises baby boys for non-religious reasons
CNN, U.S.A.
March 1, 1999
ATLANTA (CNN) -- American pediatricians are turning away from the practice of routine circumcision, concluding that doctors have no good medical reason to perform the procedure.
The United States is the only country in the world that routinely removes the foreskins of infant boys. Critics of circumcision got additional ammunition Monday from the American Academy of Pediatrics, a leading medical organization.
The academy concluded the benefits "are not compelling enough" for circumcision to be routinely administered.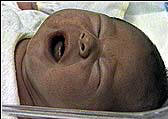 A newborn winces in pain after a circumcision
Monday's statement, published in the March edition of the journal Pediatrics, was the academy's first in 10 years on the practice. But in recent years, medical societies in Canada, Britain and Australia have come out in opposition to routine circumcision.
Critics have long contended that removing the foreskin from the penis is traumatic, medically unnecessary and may reduce sexual pleasure later in life. As one critic, Dr. George Denniston, put it: "Who are we to question mother nature?"
Canadian researchers, whose study was published in this week's Journal of the American Medical Association, studied the heart rates and crying patterns of babies during different stages of circumcision.
In fact, in the study they found the babies suffered so much trauma that they stopped the study part way through.
The results were so compelling that they took the unusual step of stopping the study before it was scheduled to end rather than subjecting any Read More ..bies to circumcision.
One baby stopped breathing for 25 seconds from the trauma of having part of his foreskin severed. Read More ..
Urinary Tract Infections (UTIs) are rare, and mainly occur in the first year of life. They are several times Read More .. common in girls than boys (but of course surgery is never considered for girls).
They are painful, and women's experience of them is a powerful inducement to have sons circumcised, if they imagine that this will protect them. In fact, a significant proportion of boys contract UTIs even though they are circumcised. A study in Israel found they mainly occurred in girls at four months, but in boys soon after they were circumcised.... Now an Australian study suggests circumcision may cause urinary problems. Read More ..