Virtual Library of Newspaper Articles
Parental alienation gets a day
Tribune, U.S.A., By Kathleen Parker, May 12, 2006
Proclamations generally have the same riveting power as supermarket ribbon-cuttings, but a recent one in Maine is being celebrated as a small victory for children and noncustodial parents wounded by divorce.
The proclamation, signed by Gov. John E. Baldacci, recognized April 25 as "Parental Alienation Awareness Day."
If you don't know what "parental alienation" is, you probably haven't had the pleasure of a divorce with children. Veterans of those wars know without a governor's seal exactly what it means - agony for a noncustodial parent and emotional problems for children alienated from one parent.
Baldacci's proclamation is noteworthy in the age of divorce because it officially recognizes Parental Alienation Syndrome (PAS) as a psychological condition that can have lasting consequences for children torn between battling parents in high-conflict divorces.
Given the operative words "high-conflict," one can imagine that not everyone is applauding. Although PAS would seem to affirm common sense, it is a deeply divisive and controversial idea embraced by fathers' groups and often abhorred by mothers in divorce cases.
Fathers who feel disenfranchised when courts award custody of their children to the mother during divorce have used PAS successfully to pressure judges to allow greater access to their children. One can hardly blame men for trying to be fathers.
But critics claim that abusive fathers sometimes use PAS to force access where none should be granted. Mothers claim in such cases that they're trying to protect their children, not alienate them.
This latter argument became the centerpiece last fall of a controversial PBS documentary about abused women and children, "Breaking the Silence," that fathers' groups attacked as unbalanced and unfair.
No fathers were interviewed, and the cases reviewed tended to be extreme and sensational.
Several women interviewed, for instance, said that they lost custody of their children to abusive fathers (confirmed by the children themselves) when fathers used PAS to "prove" that the women were systematically teaching their children to hate their fathers.
Glenn Sacks, a radio show host and columnist, called the film a "direct assault on fatherhood," and organized a protest on his Web site. Others - many of whom I know and respect as fellow toilers in trying to advance fatherhood - joined in.
Sacks' campaign had an effect, and PBS ombudsman Michael Getler wrote a lengthy response agreeing that the show was unbalanced.
The focus on PAS as a tool of questionable value - no medical or psychological group recognizes PAS as a scientifically proven "syndrome" - makes the Maine proclamation a timely development for those who believe in its value in equalizing custody.
PAS was first identified in 1985 by psychiatrist Dr. Richard Gardner, himself a lightning rod among those who debate these issues. For years an expert witness in custody cases, Gardner (who committed a brutal suicide in 2003) has been variously hailed as hero or villain, depending on which way the court leaned.
To fathers, he was a godsend - an advocate for protecting children from the emotional fallout of divorce and the potentially lasting damage from over-identifying with one parent while hating the other. Given that children are part of both parents, hating one parent is tantamount to hating half of oneself. Can't be good for you.
To mothers, some of whom surely were trying to protect their children, Gardner is something else. Through the years, many tried to discredit him for his self-published library and the lack of peer review for his articles. Some called his work "junk science."
But Gardner's theory has gained traction in recent years. Today, there are some 133 peer-reviewed articles about PAS and more than 65 legal citations.
While I'm in no position to argue for or against the scientific integrity of PAS, anybody old enough to drink coffee knows that embittered divorcees can and do manipulate their children. Not just women, but men, too. But because mothers more often are awarded custody of children, they more often draft their children to share their bitterness.
The biggest losers in such cases, of course, are neither the mothers nor the fathers, but the children, who deserve to have unfettered access to both parents, assuming there's no abuse, without having to tote the adults' emotional baggage.
Whether parental alienation meets the scientific standards of a "syndrome" is a battle researchers can wage among themselves. The underlying message, meanwhile, is that there needs to be a presumption of shared custody following divorce, again, assuming no abuse.
Life is alienating enough without the help of one's own parents.
---
Kathleen Parker is a popular syndicated columnist and director of the School of Written Expression at the Buckley School of Public Speaking and Persuasion in Camden, South Carolina.
Copyright 2006 Tribune Media Services
Brainwashing Children - Divorce - Family Law

TV Show about Parental Alienation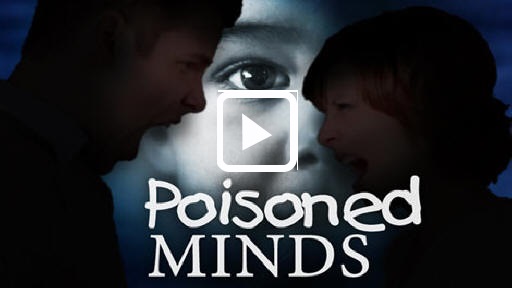 November 7, 2009
The world of divorce is scary for any child. But when a divorce becomes especially toxic, children can become the target of an unrelenting crusade by one parent to destroy the child's relationship with the other. Experts call it parental alienation.
Parental Alienation

The New York Times, New York city, U.S.A. August 8, 2004
Not too long ago, Jacqueline Scott Sheid was a pretty typical Upper East Side mother. Divorced and with a young daughter, she had quickly remarried, borne a son, and interrupted her career to stay home with the children while her husband, Xavier Sheid, worked on Wall Street.
Early last year, Mr. Sheid lost his job and saw his only career opportunity in California. But Ms. Sheid's ex-husband, who shares joint legal custody of their daughter, refused to allow the girl to move away. So Ms. Sheid has spent much of the last year using JetBlue to shuttle between her son and husband on the West Coast and her daughter (and ex) on the East.
The New York court system, which she hoped would help her family to resolve the problem, has cost her tens of thousands of dollars in fees for court-appointed experts, she said, and has helped to prolong the process by objecting to her choice of lawyers. Read More ..

NEWSWEEK, U.S.A.
May 7, 2007
Many celebrities would shrink from view after a PR nightmare like Alec Baldwin's leaked voice mail in which he calls his 11-year-old daughter, Ireland, a "rude, thoughtless little pig." But Baldwin wants to use the media scrutiny to give exposure to parental alienation, the controversial "syndrome" caused by one parent's systematically damaging a child's relationship with the other parent. Read More ..
Parental Alienation

B.C. judge bars mother from seeing daughter
Court orders one-year ban after 'unfounded' abuse allegations made about teenager's father
THE CANADIAN PRESS
March 10, 2009
VANCOUVER - In a case of extreme parental alienation, a mother has been banned by a B.C. Supreme Court judge from seeing her teenage daughter for more than a year.
Because of the urgency of the matter, Justice Donna Martinson issued the terse, two-page ruling outlining 15 conditions the parents must follow, including that the mother, known only as Ms. A, not see her daughter until at least March 31, 2010.
The decision came after the mother alleged extreme emotional abuse by the father, which she claimed was putting the teenager's safety at risk.
"I am satisfied that Ms. A's allegations are unfounded," Martinson wrote.
"I am further satisfied that she has continued to undermine the relationship between M and her father and has acted in ways that are detrimental to M's psychological healing."
Names have been stripped from the court ruling to protect the girl's identity.
The judge has ordered that both the mother and maternal grandmother have no contact with the girl, which would be enforced by police if necessary.

PSYCHOLOGY: MIND GAMES
Some victims of parental alienation syndrome don't realize until adulthood that one parent turned them against the other
The Globe and Mail
March 24, 2009
After Joe Rabiega's parents divorced, when he was an adolescent, his father repeatedly told him his mother had abandoned him. The boy had to return any gifts that came from his mother's side of the family and, twice daily, he had to pledge his allegiance to his father.
"I was never allowed to have anything to do with her," he says from his home in Raleigh, N.C. "The consequences were dire if I did. He said I would have nobody."
Even though Mr. Rabiega, now 33, had witnessed ugly behaviour by his father toward his mother and knew his dad to be an erratic alcoholic, it wasn't until he sought counselling for personal problems in his early 20s that his past snapped into focus: He had been the victim of parental alienation syndrome - his father had systematically turned him against his mother.
The phenomenon, coined by psychiatrist Richard A. Gardner in 1985, has gained traction recently due to a number of recent high-profile divorce cases in Canada - not to mention the very public case of movie star Alec Baldwin, who accused his former wife, Kim Basinger, of parental alienation. Read More ..
November, 1999
WHAT IS IT?
The Parental Alienation Syndrome (PAS) is the systematic denigration by one parent by the other with the intent of alienating the child against the other parent. The purpose of alienation is usually to gain or retain custody without the involvement of the non-custodial parent (NCP) The alienation usually extends to the NCP's family and friends as well. Though this document is written with the father in mind, it must be clear that there are many cases of PAS where the NCP is the mother, and PAS from the non-custodial mothers' viewpoint will be discussed later.
Dr. Richard Gardner in his book 'The Parental Alienation Syndrome' states (p. 74) "Many of these children proudly state that their decision to reject their fathers is their own.";
They deny any contribution from their mothers. And the mothers often support this vehemently. In fact, the mothers will often state that they want the child to visit with the father and recognise the importance of such involvement, yet such a mothers every act indicates otherwise.
Such children appreciate that, by stating the decision is their own, they assuage mother's guilt and protect her from criticism. Such professions of independent thinking are supported by the mother who will often praise these children for being the kind of people who have minds of their own and are forthright and brave enough to express overtly their opinions.
Frequently, such mothers will exhort their children to tell them the truth regarding whether or not they really want to see their fathers. The child will usually appreciate that "the truth" is the profession that they hate the father and do not want to see him ever again. They thereby provide that answer - couched as "the truth" - which will protect them from their mother's anger if they were to state what they really wanted to do, which is to see their fathers.
It is important for the reader to appreciate that after a period of programming the child may not know what is the truth any Read More ..d come to actually believe that the father deserves the vilification being directed against him. The end point of the brainwashing process has then been achieved. Read More ..

Rick James Lohstroh, a doctor at UTMB, was fatally shot this summer, apparently by his 10-year-old son.
ABC13 Eyewitness News, Houston, Texas, U.S.A.
Dec. 29, 2004
The 10-year-old Katy boy accused of murdering his father this summer is now the face of an unofficial psychiatric disorder that may have lead to his father's death.
Some psychiatrists call it Parental Alienation Syndrome and they say that's why the son killed Doctor Rick Lohstroh last summer. The syndrome is basically caused by a bitter parent who poisons a child against the other parent, usually in cases of divorce. Read More ...

THE CANADIAN BAR ASSOCIATION
L'ASSOCIATION DU BARREAU CANADIEN

Study says such cases should be moved out of court system, handled by individual judges
The Globe and Mail
May 13, 2009
An escalation in parental alienation allegations is draining valuable courtroom resources, a major study of 145 alienation cases between 1989-2008 concludes.
"Access problems and alienation cases - especially those which are more severe - take up a disproportionate amount of judicial time and energy," said the study, conducted by Queen's University law professor Nicholas Bala, a respected family law expert.
"One can ask whether the courts should even be trying to deal with these very challenging cases." Read More ..
A Mother's Heartbreaking Story of Parental Alienation Syndrome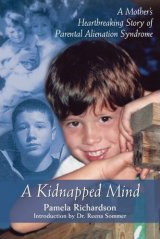 What does Parental Alienation Syndrome mean? In my case, it meant losing a child. When Dash was 4 1/2 years old his father and I broke up. I dealt with the death of our marriage and moved on but Peter stayed angry, eventually turning it toward his own house, teaching our son, day by day, bit by bit, to reject me. Parental Alienation Syndrome typically means one parent's pathological hatred, the other's passivity and a child used as a weapon of war. When Dash's wonderful raw materials were taken and shaken and melted down, he was recast as a foot soldier in a war against me. Read More ..