UNIVERSAL PHARMACARE CHILDREN - ONTARIO - CANADA OHIP+ - Presriptions for Children

Free prescriptions for many children and young adults in Ontario set to end in March
The Toronto Star, Rob Ferguson, Queen's Park Bureau, Fri., Jan. 4, 2019
Free taxpayer-funded prescriptions to children and young adults under 25 will end in March if they have private insurance coverage.
The looming change in the OHIP+ pharmacare program, expected to save $250 million a year, was first announced in late June as Premier Doug Ford's Progressive Conservatives took power but the time frame for implementation remained a mystery until now.
"The government is fixing OHIP+ by focusing benefits on those who need them the most," said a notice posted online on a government website this week putting the proposal out for public comment until the end of January.
Sources said the government hopes to have the necessary systems in place with insurers and pharmacies by late March.
Under the new plan, children and young adults will continue to get free prescriptions if they or their parents do not have private health insurance coverage.
Otherwise, private insurance plans become the "first payer" for prescription medicines.
At issue is how pharmacists will be able to verify whether customers under 25 have private coverage, or deductibles or co-payments.
The Ontario Pharmacists Association said it supports the initiative and is eager to have a smooth, streamlined process to make sure children and young adults get the medicines they need without snags.
"There's still some technical issues and IT system issues to work out," Allen Malek, the association's executive vice-president and chief pharmacy officer, told the Star on Friday.
At drug stores, pharmacists will ask customers if they have insurance and check their coverage online. But pharmacists are concerned about the complications of performing a "policing" function on behalf of the government.
"It puts us at a risk we cannot necessarily protect against," said Malek, concerned some customers, whose insurance plans require them to cover some of their drug costs through co-pays or deductibles, may say they do not have insurance to avoid paying anything.
The association is concerned the government will make pharmacies liable for the costs if it's later discovered the customer had private insurance.
Health Minister Christine Elliott's office would not specify how the system would be made fail-safe, other than to say "our government is broadly engaging with employers, pharmacies and insurance companies as part of our efforts to ensure a smooth transition and implementation."
New Democrat MPP and health critic France Gelinas (Nickel Belt) said the change will be more costly to administer and prone to complications.
"This patchwork system is the most likely to have big cracks for people to fall through, especially since, right now, the government has no sure way to figure out which children have or have not been put back on their parents' private insurance plans."
The Green party questioned the promised cost savings, saying Finance Minister Vic Fedeli has put them as low as $100 million and as high as $300 million at different times.
"They have been playing fast and loose with the numbers," said a statement from the office of Green Leader Mike Schreiner, MPP for Guelph.
About 4,400 medications are eligible under the pharmacare plan launched a year ago by the previous Liberal government.
In his fall economic statement, Fedeli estimated the move will save "at least" $250 million.
"The government promised that it would find efficiencies while ensuring that vital public services are affordable and sustainable, now and in the years to come," he wrote.
Ford has promised to find $6 billion in annual spending cuts in a bid to eliminate a provincial deficit the government pegs at $14.5 billion.
Drugs covered under OHIP+ are the same ones used in the Ontario Drug Benefit Program for seniors and people on social assistance.
---

Ontario government promises help for families falling through the cracks due to OHIP+ changes
The Toronto Star, Rob Ferguson, Queen's Park Bureau, May 2, 2019
Families falling through the cracks after recent changes to OHIP+, including parents stuck paying hundreds of dollars monthly for specialized infant formula, can expect help from the government, says Health Minister Christine Elliott.
"We don't want people to be in a worse situation," Elliott said Thursday of the April 1 changes, which made private insurance plans the "first payer" for all claims to save an estimated $250 million a year.
"We're going to resolve it, absolutely," she promised, acknowledging that the formula issue is one of the main snags with the change from the previous Liberal government's OHIP+ plan that provided universal coverage.
A fix can't come soon enough, said a Niagara Falls mother whose 7-month-old son requires $700 a month in specialized nutritional formula free of milk proteins.
"There are a lot of families out there like ours," said Kelsey Vettor, whose boy Ryker vomits if fed normal milk-based formula because of a severe dairy allergy.
His formula, Puramino A+, costs $67 per can for a total cost of about $700 monthly which Vettor and her fiancé are paying since OHIP+ no longer covers it.
"It's a lot of unexpected money," Vettor told the Star in a telephone interview. She first learned of the extra cost when her fiancé went to a hospital pharmacy to get the formula in early April and was told he would have to pay upfront.
New Democrat MPP France Gelinas, her party's health critic, said specialized formulas used to be covered under a separate government program that was then rolled into OHIP+.
The April 1 change has left families in a "bureaucratic nightmare" for formula and other prescriptions because parents must now prove to the government which medications their private plans don't cover, added Gelinas (Nickel Belt).
"These changes to OHIP+ are way bigger than just the infant formula," she said.
"It is becoming so difficult that it's bringing in huge delays so the parents are paying up front because they can't stand to see their kids sick. If you do this, then OHIP+ doesn't pay you back for all of those months that you have been paying while trying to fight the government."
Gelinas also said families who reach spending limits under their private drug plans are now also "on the hook" for prescription costs once the cap is reached.
The health ministry is working with insurance companies and other players to iron out snags in the new system, Elliott said.
"We're following up to understand exactly what the problem is," she added, not providing a time line for remedies. "This will be the government that will fix it."
Green Leader Mike Schreiner said his office in Guelph has also heard from families experiencing problems getting the medications they need. "I've had constituents reach out with concerns they were covered before and now they're not being covered. It seems people are falling through the cracks and it's something the ministry needs to address."
The changes to OHIP+ were quietly announced on the Canada Day weekend after Premier Doug Ford's Progressive Conservative government was sworn in following its landslide defeat of Kathleen Wynne's Liberals in last June's provincial election.
At the time, Elliott said in a press release that "Premier Ford promised the people he would find efficiencies without compromising service or jobs."
The idea was to focus benefits "on those who need them the most," the government added in an online posting this January as efforts were underway tp create the revised OHIP+ with insurers and pharmacies in time for the April 1 implementation.

NEWSWEEK, U.S.A.
May 7, 2007
Many celebrities would shrink from view after a PR nightmare like Alec Baldwin's leaked voice mail in which he calls his 11-year-old daughter, Ireland, a "rude, thoughtless little pig." But Baldwin wants to use the media scrutiny to give exposure to parental alienation, the controversial "syndrome" caused by one parent's systematically damaging a child's relationship with the other parent.
A Mother's Heartbreaking Story of Parental Alienation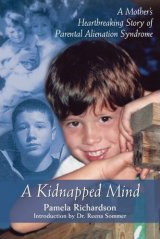 What does Parental Alienation Syndrome mean? In my case, it meant losing a child. When Dash was 4 1/2 years old his father and I broke up. I dealt with the death of our marriage and moved on but Peter stayed angry, eventually turning it toward his own house, teaching our son, day by day, bit by bit, to reject me. Parental Alienation Syndrome typically means one parent's pathological hatred, the other's passivity and a child used as a weapon of war. When Dash's wonderful raw materials were taken and shaken and melted down, he was recast as a foot soldier in a war against me.

Rick James Lohstroh, a doctor at UTMB, was fatally shot this summer, apparently by his 10-year-old son.
ABC13 Eyewitness News, Houston, Texas, U.S.A.
Dec. 29, 2004
The 10-year-old Katy boy accused of murdering his father this summer is now the face of an unofficial psychiatric disorder that may have lead to his father's death.
Some psychiatrists call it Parental Alienation Syndrome and they say that's why the son killed Doctor Rick Lohstroh last summer. The syndrome is basically caused by a bitter parent who poisons a child against the other parent, usually in cases of divorce.

Study says such cases should be moved out of court system, handled by individual judges
The Globe and Mail
May 13, 2009
An escalation in parental alienation allegations is draining valuable courtroom resources, a major study of 145 alienation cases between 1989-2008 concludes.
"Access problems and alienation cases - especially those which are more severe - take up a disproportionate amount of judicial time and energy," said the study, conducted by Queen's University law professor Nicholas Bala, a respected family law expert.
"One can ask whether the courts should even be trying to deal with these very challenging cases." Read More ..

Courts criticized for recognizing 'parental alienation'
National Post
March 27, 2009
Toronto -- The scope of the courts' reach into family affairs has long been contentious, but a recent trend in Canada's legal system has brought a new controversy that has some onlookers praising judges and others condemning them for accepting what they call "voodoo science."
More than ever before, Canada's judges are recognizing that some children of divorced and warring parents are not simply living an unfortunate predicament, but rather are victims of child abuse and suffering from Parental Alienation Syndrome. Read More ..
Parental Alienation

B.C. judge bars mother from seeing daughter
Court orders one-year ban after 'unfounded' abuse allegations made about teenager's father
THE CANADIAN PRESS
March 10, 2009
VANCOUVER - In a case of extreme parental alienation, a mother has been banned by a B.C. Supreme Court judge from seeing her teenage daughter for more than a year.
Because of the urgency of the matter, Justice Donna Martinson issued the terse, two-page ruling outlining 15 conditions the parents must follow, including that the mother, known only as Ms. A, not see her daughter until at least March 31, 2010.
The decision came after the mother alleged extreme emotional abuse by the father, which she claimed was putting the teenager's safety at risk.
"I am satisfied that Ms. A's allegations are unfounded," Martinson wrote.
"I am further satisfied that she has continued to undermine the relationship between M and her father and has acted in ways that are detrimental to M's psychological healing."
Names have been stripped from the court ruling to protect the girl's identity.
The judge has ordered that both the mother and maternal grandmother have no contact with the girl, which would be enforced by police if necessary.