Jews - Circumcision of Males
The Jewish Perspective on the circumcision of males
Jews against Circumcision Website
From their website (2004)
"We are educated and enlightened Jews who realize that the barbaric, primitive, torturous, and mutilating practice of circumcision has no place in modern Judaism.
Rabbi Moses Maimonides himself acknowledged that circumcision is done to desensitize the penis and curb masturbation. In ancient Judaism, you could be murdered for disobeying your husband or parents, blasphemy, homosexuality and other so-called crimes that we now realize are not crimes, but freedoms of expression. Jews are some of the smartest people in the world. We are 1/3rd of 1% of the population, yet we hold 33% of Nobel prizes. We are smart enough to understand that mutilating a little boys' penis is not an acceptable practice in modern times.
...Do not be afraid of divine punishment. God did not mandate circumcision. In the original version of the Torah, the book of J, circumcision is not even mentioned. Fallible men devised circumcision as a way to curb masturbation. Even Rabbi Maimonides acknowledged this fact."
---
Jews have been questioning circumcision for some time.
From their website
"Religious Circumcision
Jews have been questioning circumcision for some time. The brit milah is supposed to be performed out of deep and abiding faith.
"We do not demonstrate our acceptance of the Covenant by following all of Gods commandments. We don't keep kashrut, we don't keep Shabbat. Brit milah is supposed to be a sacrosanct act of faith, the most important mitzvah (commandment). We don't actively attempt to keep the other mitzvot...like most present day American Jews. If you explain [to your son] that he was circumcised because he is Jewish, he may feel that you are hypocrites if you do not live an Orthodox life." [Bivas] "
---
Jewish circumcision (bris or brit milah) is dependent on the acceptance of cultural myths
Jewish Circumcision Resource Center
From their website (2004)
"Like the American cultural practice of circumcision, Jewish circumcision (bris or brit milah) is dependent on the acceptance of cultural myths. Of all the myths that Jews believe about circumcision, the one that is paramount is the belief that all Jews circumcise. With this belief, we put ourselves under tremendous pressure to conform.
Bound by this burden to comply with social expectations, most Jewish parents do not recognize that circumcision is a choice. Since open communication about circumcision is discouraged, there is virtually no awareness of others who feel similar conflicts and doubts around circumcision. More over, if a Jewish parent does decide not to circumcise a male child, it is not generally known to the rest of the community. As a result, many parents submit to the pressure and then discover only too late, perhaps after witnessing the circumcision of their son, that they wish they had chosen differently. Some parents report that if they could take back one decision, it would be their son's circumcision."
---
World Jewish Congress wants circumcisions
The Jewish Journal of Los Angeles, California. U.S.A.
From their website (2004):
"Group Blasts Circumcision Law
The World Jewish Congress said it is totally unacceptable for Sweden to impose legal restrictions on circumcisions.
The new legislation, passed June 1, declared that circumcisions can be performed only after the administration of an analgesic by a doctor, nurse or person with special permit.
The law was passed after a circumcision led to the death of a Muslim boy.
---
'Circumcision is abuse'
HA'ARETZ, Tel Aviz, Israel, Sunday, 17 June 2001.By Nitzan Horowitz
Hofvander argues that even if millions of boys are circumcised every year, this does not mean that their parents are right. "Many millions of girls are sexually mutilated annually - are their parents right or wrong?" he writes. "Many millions of Chinese girls had their feet bound so that they did not develop - were their parents right or wrong? It was the custom to beat children (with support from authorities, including pronouncements in the Bible!) - were their parents right or wrong?" He notes that with the development of principles of justice, these practices are no longer tolerated. Now, he declares, "The time has come to seriously question male circumcision and mutilation."
Read the entire article click here
---
The rite of circumcision (brit milah) is one of the most ancient practices of Judaism.
Jewish Virtual Library
From their website
Circumcision is the removal of the foreskin of the penis. The rite of circumcision (brit milah) is one of the most ancient practices of Judaism. The commandment to circumcise male children was given to Abraham in the Torah (Genesis 17:714 and repeated in Leviticus 12:3):
And God said unto Abraham: 'And as for thee, thou shalt keep My covenant, thou, and thy seed after thee throughout their generations. This is My covenant, which ye shall keep, between Me and you and thy seed after thee: every male among you shall be circumcised. And ye shall be circumcised in the flesh of your foreskin; and it shall be a token of a covenant betwixt Me and you. And he that is eight days old shall be circumcised among you, every male throughout your generations, he that is born in the house, or bought with money of any foreigner, that is not of thy seed. He that is born in thy house, and he that is bought with thy money, must needs be circumcised; and My covenant shall be in your flesh for an everlasting covenant. And the uncircumcised male who is not circumcised in the flesh of his foreskin, that should shall be cut off from his people; he hath broken My covenant. [English translation from 1917 JPS Tanach.]
Circumcision is (in general) a common denominator among movements: Reform, Conservative, Reconstructionist, Orthodox all circumcise their male children and require male converts to undergo some form of circumcision
Circumcision unnecessary, say Sask. doctors
Canadian Press, CTV and various newspapers across Canada, February 21, 2002
Jews protest Swedish circumcision restriction
Reuters, June 2001.
Debate continues over circumcision
Activists call for end to procedure
Toronto Sun, July 6, 1998

Male Circumcision has little effect on Urinary tract infection
Circumcision: A Jewish Inquiry
By Lisa Braver Moss
Abridged and adapted from a piece that originally appeared in Midstream magazine (1992).
History of Circumcision
The 1922 Encyclopedia Love to Know
Study traces trauma of Beduin victims of female circumcision
The Jerusalem Post, February 28, 2000, By Patricia Golan
Rights body denies issuing policy on circumcision
Canadian Jewish News, January 25th, 2001
The first critical examination of the growing controversy of male infant circumcision with special attention to contemporary concerns of the Jewish community. Endorsed by five rabbis.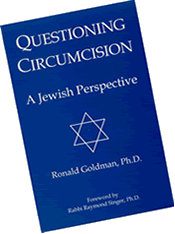 "New information, reasoned inquiry, gut feelings, personal experience, and Jewish ethical values together make a strong case for keeping a male infant the way he is born--natural and whole." - Ronald Goldman, Ph.D. Click here for link
Stop Infant Circumcision Society SICS U.S.A.
A Bill to End Male Genital Mutilation in the U.S.
Submitted to the U.S.A. Congress, February 23, 2004
Circumcision Resource Centre U.S.A.
Damage done to males that are circumcised U.S.A.
Doctors Against Circumcision U.S.
The Intact Network U.S.
Circumcision Information Australia
Infocirc (Canada) available in english and french
Books:
Doctors Re-examine Circumcision, by Thomas Ritter, M.D. and George Denniston, M.D.
The Joy of Uncircumcising, by Jim Bigelow Ph.D.
Circumcision, The Hidden Trauma, by Ronald Goldman Ph.D.
Questioning Circumcision, A Jewish Perspective, by Ronald Goldman Ph.D.
Videos:
Whose Body, Whose Rights?
Examining the Ethics and the Human Rights Issue of Infant Male Circumcision
PBS (Public Broadcasting System) U.S.A., Documentary 1995
Urinary Tract Infections (UTIs) are rare, and mainly occur in the first year of life. They are several times Read More .. common in girls than boys (but of course surgery is never considered for girls).
They are painful, and women's experience of them is a powerful inducement to have sons circumcised, if they imagine that this will protect them. In fact, a significant proportion of boys contract UTIs even though they are circumcised. A study in Israel found they mainly occurred in girls at four months, but in boys soon after they were circumcised.... Now an Australian study suggests circumcision may cause urinary problems. Read More ..