Genital Mutilation of Males
Whose Body, Whose Rights?
Examining the Ethics and the Human Rights Issue of Infant Male Circumcision
PBS (Public Broadcasting System) U.S.A. Documentary 1995
From the U.S. website at http://www.circumcisionvideos.com
"In a new era of children's rights, this independently produced two-part social issue documentary compassionately explores genital mutilation of unconsenting children, euphemistically termed "circumcision." It boldly and responsibly addresses these vital issues long overdue for inner reflection and cultural self-examination:
history and medical ethics
consequences of circumcision
evolving religious attitudes
legal and constitutional issues
foreskin functions
men's awareness and uncircumcision
medical conscientious objection
children's rights
Recipient of the Creative Excellence award at the 1996 U.S. International Film and Video Festival, Honorable Mention at the 1996 Philadelphia Film Festival, and Best of Festival at the First Annual Stark Video & Film Festival (1997)."
"Whose Body, Whose Rights? will compel every health care professional, especially doctors and nurses, in taking to heart their oath - Do No Harm."
Norma Wilcox, RN, University of California at San Francisco Medical School
"I had presumed that men upset by their circumcision had a mental disorder. That impression was dispelled by this video's wealth of factual data about truly natural male sexual functioning and its rational look at some of the very adverse outcomes caused by circumcision."
Louanne Cole, PhD, Sex therapist and San Francisco Examiner "Sex Matters" columnist
"I know that stopping genital mutilation is the single most important thing we can do to insure the physical and psychological health of men."
Jed Diamond, LCSW, author, The Warrior's Journey Home: Healing Men, Healing the Planet
"Teachers of male health and sexuality courses will find this to be a valuable tool that raises important questions concerning the right of males to make informed decisions about their own bodies."
Jan Zlotnick, RN, Health Educator, City College of San Francisco
"Whose Body, Whose Rights? reveals the painful human rights realization that reproductive integrity and sexual health are repeatedly violated through destructive sexual surgeries attacking the most vulnerable members of society."
Professor Anastasios Zavales, Reporting Officer to the UN Working Group of International Experts on Violations of Genital Mutilation
"This film focuses squarely and necessarily on the question: Does a child's body belong to his parents or to him?"
Jim Senter, Executive Director, National Child Rights Alliance
"A unique, eye-opening film that reveals an issue too often ignored - infant pain. It should be seen by all practitioners and students in the fields of psychology and psychiatry."
David Chamberlain, PhD, President, Association for Pre- & Perinatal Psychology and Health
A video excerpt of Whose Body, Whose Rights? is provided on their website.

Pediatricians turn away from circumcision
The United States is the only country that routinely circumcises baby boys for non-religious reasons
CNN, U.S.A.
March 1, 1999
ATLANTA (CNN) -- American pediatricians are turning away from the practice of routine circumcision, concluding that doctors have no good medical reason to perform the procedure.
The United States is the only country in the world that routinely removes the foreskins of infant boys. Critics of circumcision got additional ammunition Monday from the American Academy of Pediatrics, a leading medical organization.
The academy concluded the benefits "are not compelling enough" for circumcision to be routinely administered.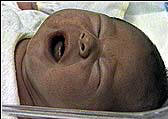 A newborn winces in pain after a circumcision
Monday's statement, published in the March edition of the journal Pediatrics, was the academy's first in 10 years on the practice. But in recent years, medical societies in Canada, Britain and Australia have come out in opposition to routine circumcision.
Critics have long contended that removing the foreskin from the penis is traumatic, medically unnecessary and may reduce sexual pleasure later in life. As one critic, Dr. George Denniston, put it: "Who are we to question mother nature?"
Canadian researchers, whose study was published in this week's Journal of the American Medical Association, studied the heart rates and crying patterns of babies during different stages of circumcision.
In fact, in the study they found the babies suffered so much trauma that they stopped the study part way through.
The results were so compelling that they took the unusual step of stopping the study before it was scheduled to end rather than subjecting any Read More ..bies to circumcision.
One baby stopped breathing for 25 seconds from the trauma of having part of his foreskin severed. Read More ..
Urinary Tract Infections (UTIs) are rare, and mainly occur in the first year of life. They are several times Read More .. common in girls than boys (but of course surgery is never considered for girls).
They are painful, and women's experience of them is a powerful inducement to have sons circumcised, if they imagine that this will protect them. In fact, a significant proportion of boys contract UTIs even though they are circumcised. A study in Israel found they mainly occurred in girls at four months, but in boys soon after they were circumcised.... Now an Australian study suggests circumcision may cause urinary problems. Read More ..