Virtual Library of Newspaper Articles

"Joint custody trial to calm break-up fury"
SYDNEY MORNING HERALD, Australia, By Louise Dodson and Lauren Martin, April 27, 2004
A new Families Tribunal will encourage separating parents to agree to joint custody of their children under a two-year trial endorsed by federal cabinet.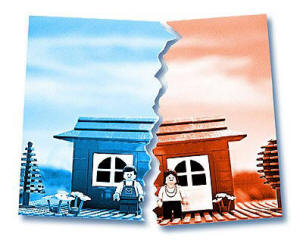 Illustration: Mick Connolly
The tribunal, which aims to reduce the adversarial dimensions of the Family Court, will comprise child experts, psychologists and a judge or senior lawyer.
During the two-year pilot study, it will complement the Family Court. If found to be successful, it could ease much of the court's workload.
Cabinet has been considering for two months plans to encourage shared custody after Government MPs were inundated by claims from aggrieved fathers that the current system discriminates against them.
Although some cabinet ministers have doubts that the tribunal will work, cabinet has authorised the Attorney-General, Philip Ruddock, to consult backbenchers on the trial.
But the pilot may face resistance from some Government backbenchers who believe the tribunal does not go far enough.
Many of them want to throw lawyers out of the divorce process and replace them with a shopfront - within Medicare or Centrelink offices - where separating parents could get advice, paperwork and referrals to mediation if they could not agree on arrangements for the children. Only after all these measures failed would they go to a Families Tribunal.
With cabinet approval, the trial is all but certain to go ahead. But it would be "hard to understand", according Kay Hull, the Riverina National MP who headed a six-month public custody review analysing almost 2000 submissions. Her parliamentary committee's report was finished on its tight deadline, but four months later, cabinet has yet to respond fully to its recommendations.
Ms Hull has arranged to meet Mr Ruddock today, but says no one has contacted her committee about a pilot scheme. "'I'd be asking them to explain," she said, arguing the committee's proposed overhaul was envisaged as a complete system. "There is an absolute commitment to this. We are not going to lie down."
The first step in the overhaul proposed by the committee would be the shopfront. Parents who failed to agree on a custody plan during counselling would go to a Families Tribunal, which could draft binding agreements.
The tribunal would be informal, with very little documentation and no lawyers.
But with cabinet split on the tribunal scheme, the shopfront and mediation recommendations have been left in limbo. There has been no action either on its plan to reform child support payments.
"There has been no discussion of the single entry point [the shopfront]," Ms Hull said.
She said this first point - to keep parents from going straight to a lawyer - was critical to avoiding the acrimony that has such devastating effects on children.
If the Family Court administered a pilot of the Families Tribunal, "that's a total duplication," Ms Hull said.
Lawyers have lobbied against the tribunal scheme, arguing it will leave people vulnerable without legal representation - and that it was outside the committee's terms of reference.
The inquiry was established to consider a legal presumption of 50-50 shared custody after divorce, but opted instead to recommend "shared parental responsibility".
Copyright 2004. The Sydney Morning Herald.