Canadian Family Law History

The Canadian Press, ANDY BLATCHFORD, May 12, 2009
MONTREAL - A Montreal father is still waiting for a "miracle" reunion with his 10-year-old daughter who resurfaced last month in Vancouver, more than two years after she vanished.
Transit police found Ashley Gonis after she ran away from her mother's Vancouver-area home and called 911 from a commuter train station several kilometres away.
It's now been over a month since she turned up, but her father Frank, who has sole custody, said Tuesday he still isn't allowed to speak to her.
Instead, Ashley's mother, who Quebec police allege abducted the child, is preparing to restart the family custody fight on a new battlefield - a British Columbia court.
Gonis, who had packed his daughter's teddy bears, clothes and drawings into boxes because it was too painful to look at them while she was missing, described her reappearance as a "miracle." His jubilation, however, has since eroded.
"(It's like) there's a nightmare, you wake up and then the nightmare comes back - and now here we go, Round 2," he said.
"Parents shouldn't have to go through stuff like this." Read More ..
---

FATHERS who want custody of their children will have more success in the Family Court than by trying to strike a deal with their ex-partners.
The Australian, Australia's national daily newspaper, By Michael Pelly, March 24, 2009
In a break with conventional wisdom, fathers are twice as likely to get majority custody of their children if they take their fight to the court.
A Family Court review shows fathers were given majority custody in 17 per cent of litigated cases, but only in 8 per cent of those settled by consent, or early agreement, with the mothers.
The review of the shared parental responsibility reforms of 2006 shows that in 14 per cent of litigated cases, the father received between 30 and 45 per cent of custody. This figure fell to 11 per cent for early agreements.
The review shows that, if fathers are given less than 30 per cent custody, abuse and violence are the main reasons. And about one in 12 court cases end with an order that a child should spend time with their grandparents.
The reforms, passed by the Howard government, introduced a rebuttable presumption of "equal time" parenting and were aimed at promoting co-operation over conflict. Read More ..
---
By Dr. Warren Farrell
When I do expert witness work, I confront from most judges three biases that I myself was also surprised to see proven invalid when I did the research for Father and Child Reunion. The first bias is the stability bias; the second is the mother bias; and the third is the 'If-the-couple-is-in-conflict-joint-custody-will-not-work' bias. All of these biases apply to post-divorce parenting Read More ..
---

Judges refuse to enforce Divorce Act section that embraces equal access to child
The Edmonton Journal, Grant A. Brown, Freelance, Saturday, June 17, 2006
When mothers lose in court, they are not made to pay court costs -- again on the premise that this would only take money away from the children. But payment of penalties and costs is merely a transfer between parents, and only prejudice supports the proposition that fathers would be less generous toward their children than mothers, given the time and financial ability to do so.
Contrast the endless lame excuses judges use not to impose remedies for access denial with their attitude toward making and enforcing child-support orders. Read More ..
---

The Globe and Mail, Canada's largest national newspaper, By HOWARD IRVING, Wednesday, October 12, 2005 page A23
Amid all the talk of rights for children, one more right needs to be asserted: Each child should have the right to benefit from long awaited and much needed changes to the Federal Divorce Act.
In May, 1997, when the Divorce Act came into effect, the then minister of justice proposed that a joint committee of the House and Senate make recommendations regarding child custody and access. After 55 hearings, and more than a year of study, the committee made 48 recommendations to Parliament, all with an underlying theme: The adversary system as it pertained to the majority of custody and access disputes put families (especially children) at risk. Despite this disturbing conclusion, Bill C-22, created to amend the Divorce Act, still sits on a shelf. Justice Minister Irwin Cotler recently said that the government aims to reintroduce child-custody and access reforms this autumn. It's about time. Correcting the current act is long overdue. Read More ..
1997 - The Federal Child Support Guidelines
Highlights
Child financial support payments were made tax free
Children of Canada got $300 million less per year and federal government gained $300 million more resulting from skimming while changing status of payments to non-taxable by financial support recipients.
Liberal government only wanted to change child financial support. They ignored non-custodial parent and child relationship rights issues until Bill was held up in the Senate of Canada by senators lead by Senator Anne Cools. Alan Rock, Canada's Justice Minister, agrees to Special Joint Committee on Custody and Access to examine these issues in return for passage of child support guidelines by the Senate.
The parent with the lesser time with the children pays the other parent (usually the mother) no matter what the recipient's income. Parents living in poverty with incomes starting at under $7,000 per year that can't even afford to pay for an extra room to have their children stay overnight are required to pay child financial support even if their ex-spouse makes a six figure income. The previous requirements included both parental incomes and expenses at both residences in nearly all cases was taken out of the law.
New guidelines ignore expenses for children while in residence with a parent (nearly always the father) having less than 40% of the overall residency time.
1998 -The Special Joint Committee on Custody and Access
Alan Rock, Canada's Justice Minister, agreed to a Special Joint Committee on Custody and Access as a concession to members of the Senate of Canada opposition headed by Senator Anne Cools who held up his bill for new child financial support guidelines.
The Special Joint Committee on Custody and Access, co-chaired by Senator Landon Pearson (Liberal - Ontario) and Roger Gallaway, Member of Parliament (Liberal - Sarnia-Lambton), was composed of members from both The Senate of Canada and The Houses of Commons representing all political parties.
The mandate of the Committee was to assess the need for a more child-centred approach to family law policies and practices that would emphasize joint parental responsibilities and child-focused parenting arrangements based on children's needs and best interests.
In meetings held across the country in most of the major cities, the Committee heard from an equal number of men and women representing a great variety of views. Non-custodial parents, Grandparents, womens groups, and the legal and therapeutic communities all offered recommendations to the Committee.
The Committee then held meetings across Canada during 1998 and reported to Parliament and the Senate in December 1998.
---
The report of the The Special Joint Committee on Custody and Access - December 1998
The Special Joint Committee's report, "For the Sake of the Children", was presented to the Parliament of Canada in December 1998. English HTML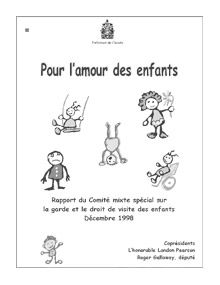 Rapport du Comit mixte spcial sur la garde et le droit de visite des enfants - Decembre 1998
"Pour l'amour des enfants" fran??ais html
---
The Government of Canada's response to the report of the Special Joint Committee
HTML View / download in Pdf
Department of Justice
Federal / Provincial / Territorial Family Law Consultations 2001
in 1992, 3 years after the Special Joint Committee on Custody and Access held public hearings across the country, and heard from over 500 witnesses, then Justice Minister, Anne McLellan, decided to hold private consultations with certain invited groups.
Many members of the Parliament of Canada called the "consultations" an affront to the democratic process and a move by the gender feminist minister, Anne McLellan, to sidestep the recommendations of the Special Joint Committee on Custody and Access (1998)
---
National Post - Women's groups balk at sitting with fathers' rights advocates at consultations held by Canada's Department of Justice Read More ..
The president of the Canadian Children's Rights Council attended the Toronto, Ontario, Canada, private consultation meetings, which were not open to the public or the press.
The meetings were disrupted by a bomb threat specifically mentioning the consultation meetings. Much time was spent in the hotel lobby. After an investigation and search by the police, the meetings continued in rooms located in a different part of the hotel, far away from the original meeting rooms.
The opinions of many who attended expressed after the meetings were that the purpose of the meetings was to pick choices for family law reform from a slate of choices offered by the Minister of Justice. The selection was very narrow in perspective and left out nearly all the recommendations of the Special Joint Committee on Custody and Access.
---
The Federal / Provincial / Territorial Consultations Report
Executive Summary HTML View / download in Pdf
Full Report ( 4 MB download ) View / download in Pdf
Federal Bill C-22
National Post Lead Editorial
The National Post, Print edition A17, December 23, 2004
Irwin Cotler, the Justice Minister, announced on Tuesday that the federal government will hold off on reforming child custody laws. We can't say that's too much of a disappointment. If enacted, the expected changes would mostly have served to tilt the anti-father bias of Canada's family courts even further in favour of women.
First proposed by Mr. Colters predecessor, Martin Cauchon, the now-dormant bill would have scrapped existing provisions compelling the courts to grant "maximum contact" to both parents and severed the last remaining connections between payment of child support and access by fathers to their kids. Worse, it would have given judges the power to withhold all access to fathers with past histories of violent behaviour while permitting wives to raise allegations of abuse at divorce proceedings even if they had made no previous complaints of violence -- a recipe for false accusations in bids to win total custody. Read More ..
News articles

The Scotsman, by Campbell Deane, a solicitor with Bannatyne Kirkwood France & Co, October 26, 2004
The family court in Medicine Hat, Alberta, Canada, was never the most bustling. But how many courts in the world have ever been closed because of a lack of business?
This unique achievement has been attributed to the success of a new method of dealing with family cases, which began in North America and is now being offered in Scotland. Read More ..
---
60 Minutes - Australia - Transcript - Listen up
May 15, 2005, Reporter: Tara Brown,Producer: Sandra Cleary

LISTEN UP
INTRO:
TARA BROWN: There's no escaping it divorce changes your kids forever. Even the most amicable split will have a life-long effect. How do we know? Well, the longest continuous study of the impact on kids when mum and dad separate is revealing some tough truths. It followed the same children for 35 years, followed them from the break-up to adulthood. They're scared of relationships and less likely to marry and those who do are more likely to divorce, just like their parents. So tonight listen up, for Australia's children have something to say in their own haunting words, how divorce changes everything. Read More ..
---
The Washington Post, April 29, 2004
TORONTO--Canadian Muslims, taking advantage of a provision of the law in Ontario, can now decide some civil disputes under sharia, or Islamic law, including family disagreements and inheritance, business and divorce issues, using tribunals that include imams, Muslim elders and lawyers. While it is less than full implementation of sharia, local leaders consider it a significant step.
Muslim promoters of sharia arbitration said no cases had been decided but the process is set. Islamic leaders created an Islamic Court of Civil Justice last fall, and that organization, in turn, has chosen arbitrators, who have undergone training in sharia and Canadian civil law. Read More ..
---

Toronto Star, by RICHARD BRENNAN, QUEEN'S PARK BUREAU, December 5, 2003
Mug shots of deadbeat parents will be posted on a government Web site to locate those who have ignored court-ordered child support, Premier Dalton McGuinty said yesterday. Read More ..
---


"Canada's National newspaper for professional women"
The Women's Post, "Canada's national newspaper for professional women", by Leslie Whatmough, July 7th, 2005
On June 9, 2005 the McGuinty government announced the passage of Bill 155, legislation that promised to increase enforcement, improve fairness and enhance efficiency at the Family Responsibility Office (FRO). However, the legislation did not address the problem of accountability and, as things now stand, the FRO is a threat to every Canadian affected by a government regulated support and custody arrangement system. Think of George Orwell's 1984 and you'll have a good picture of how issues are handled at the FRO.
They have legal power to extort money from Canadians, but are not responsible or accountable for their actions. Last year an FRO staff member decided not to wait for a court date to review the financial status of an out-of-work truck driver and took it upon themselves to suspend his license because he was, understandably, behind on his payments, having lost his job earlier in the year. Although he was looking for work, the FRO cut off the only way he knew of to earn a living. His suicide note explained how hed lost all hope. Is this what we want FRO to be doing? It is one thing to chase after dead-beat dads (this philosophy is an integrated part of the FRO mandate), but what of the majority of people who pay regularly and lose their job or run into tough times? Should they too be stripped of their civil rights? Read More ..
---


Canada's National newspaper for professional women
he Women's Post, "Canada's national newspaper for professional women", July 7th, 2005, by Joseph Young
When families fall apart, they can make for the bitterest of enemies. The intensity of their hostility, the personal rhetoric, the posturing and positioning, and the utter faithlessness of remembrance in the relationship's good deeds and consequences is a breathtaking phenomenon. It's as if the positive qualities and countless achievements are struck from history as a revisionist might strike the Holocaust. Into all of this the family court system wades, often inelegantly. Divorce lawyers drive up the emotional and financial toll of separation and transformation. Family and friends frequently collude to make things worse.
And when government decides to rear its head, well, it's a mess for all the world to see. Witness the recent attention on Ontario's euphemistically branded Family Responsibility Office. A job in advertising doubtlessly greeted the person who came up with its title, because it suggests some sort of feel-good missionary work to hold together the sanctity of the institution. Read More ..
---
Canadian Bar Association
December 2003, By Sheldon Gordon
The fathers rights movement has shaken the family law Bar, from law offices to courtrooms to government. Its members are dedicated to their cause, unwavering in their beliefs, and furious with judges, lawyers and politicians. They evoke sympathy from some and scorn from others, but they cant be ignored any longer.
In June 2002, Peter Cornakovic of Burlington, Ontario, entered a family court in Milton and approached the bench, while calling for the police to be summoned. Cornakovic then grabbed Justice Terrance O'Connor and placed him under a "citizens arrest," allegedly under the provisions of the federal Crimes Against Humanity and War Crimes Act, based on some of the judges decisions that awarded custody to mothers instead of fathers.
The police did come and quickly arrested Cornakovic, who was upset with his court-ordered support payments and his seven-year court battle with his ex-wife. But although his citizens arrest went nowhere, Cornakovic did become something of a folk hero in some quarters specifically, to the growing number of fathers rights groups in Canada. Read More ..
---
The American Psychological Association
A mother's delinquency prior to marriage not only predicts her future divorce, but also accounts for many of the behavior problems found among her children after divorce, suggests new research.
Robert E. Emery, PhD, and colleagues Mary C. Waldron, PhD, and Jeffrey Aaron, PhD, of the University of Virginia, and Katherine M. Kitzmann, PhD, of the University of Memphis, reported their findings in "Delinquent behavior, future divorce or nonmarital childbearing, and externalizing behavior among offspring: A 14-year prospective study," published in the Journal of Family Psychology. Read More ..
---

The Ottawa Citizen, Cristin Schmitz, Saturday, November 23, 2002
Earl Creighton, like many separated fathers, tries to be there for Robert, his six-year-old son. He takes him to swimming lessons, reads to him, and visits the boy several times a week.
That close relationship will change as a result of an Ontario Court of Appeal decision this week that permits Mr. Creighton's ex-common-law partner, Charlotte Bjornson, who has sole custody of Robert, to move their son 3,000 kilometres from Waterloo, Ont. to Calgary.
Ms. Bjornson asked the court to let her return to Alberta where she has family support and can resume a nursing career with 12-years' seniority that she interrupted when she moved to set up house with Mr. Creighton in 1996.
In a unanimous judgment Tuesday that will help custodial parents (usually mothers) who want to move with their children over the objections of non-custodial parents (usually fathers), the appeal court overturned a trial judge who had refused to permit Ms. Bjornson to move Robert because it was in the child's best interests "that he continue to have a close and loving relationship with each of his parents." Read More ..
---
The Daily Telegraph, Australia, by TORY MAGUIRE, Political Reporter, December 30, 2003
THE hated Family Court could be stripped of power to cut costs and keep lawyers out of messy child custody battles.
It is part of sweeping reforms proposed by a federal committee, which also wants an overhaul of child support payments. The centrepiece of the unanimous bipartisan report is "shared parenting", even though it doesn't necessarily mean equal time in each home.
Separating couples would go through two "pre-court" tiers of negotiating, including compulsory mediation before seeking a "parenting order" from a new families tribunal.
A reduced Family Court would continue in cases where there is entrenched conflict, violence, substance and child abuse, and limited appeals. Read More ..
---

The National Post, Cristin Schmitz, CanWest News Service, Tuesday, April 12, 2005
OTTAWA - Justice Minister Irwin Cotler says his government hopes to reintroduce child custody and access reforms this fall. Mr. Cotler told the Senate human rights committee yesterday he still intends to revive a contentious Chretien-era bill, with some changes. The defunct bill, which was supported by the Canadian Bar Association but condemned by fathers' rights groups, died when Paul Martin became prime minister. Read More ..
Canadian Children's Rights Council editor's comment: January 10, 2006:
Irwin Cotler and the Liberal party of Canada did nothing since he made these comments to the press in April 2005 to help Canadian children caught in family law situations. No legislation was introduced.

---